Want to get your own WordPress website online? There are many options to choose from and a number of steps required to do so. Just knowing where to begin can be completely overwhelming.
Luckily, we have helped thousands of businesses do just that. We have helped them get online and grow their business by helping them create their own WordPress website.
This tutorial will help you step by step to get your website online. As long as you begin at the beginning and walk through the process one step at a time then you will be able to create your own website and have it online in no time at all.
You do not need to be a nerd or even from Gen Y or Gen Z to be able to get your WordPress website setup and online. Anyone can get their own WordPress website online. There are only 3 things you need to be able to get your website online each of these steps we will walk through in this guide:
Purchase a domain name. A domain name is the URL you will use to access your website e.g web3.com.au
Purchase website hosting. The files that make up your website needs to sit somewhere so that your website can be accessed on the internet. This is used to get your website online.
Patience and attention. We will be walking through the steps to get your website online. Nothing will be too hard, you just need to take the time to walk through each step. These steps can be done in under 30 minutes.
Countless times we have walked people through how to setup their website in less than 30 minutes and now you can too when following these steps.
In this tutorial we will be covering the following areas:
[table_of_contents]Table of Contents
[/table_of_contents]
One of the biggest mistakes beginners make when creating their website is choosing the wrong platform to use. Because you are here, it is likely you already know what WordPress is. WordPress is the number one platform for building your own website online and is what we will be using in this tutorial. WordPress is what we used to publish this blog post.
With WordPress, you can use it for free. It is highly customizable with its design and functionality through themes and plugins, and most importantly you can make money from your site without any restrictions.
You may be wondering why WordPress is free and if there is a catch. There is no catch. WordPress makes its money by selling a number of optional services. You do not need to purchase any of their services to use WordPress and we wont be doing so in this tutorial.
WordPress is just software that you run from website hosting. It is free because you have to do the setup and host it yourself. This means that you need a domain name, website hosting and have to follow these steps.
Are you ready to get your WordPress website online? Let's begin!
How to Register a Domain Name and Website Hosting
A domain name is what people type in their web browser to get to your website. It's your website's URL address on the internet.
Just like every house in the world, every single website has an address to access it. For example, facebook.com or google.com or web3.com.au are all domain names that are purchased from a domain name provider.
A domain name typically costs anywhere between a couple of dollars to a couple of hundred dollars for a 12 month period. This depends on what type of domain name extension you choose to use. For example a .com domain name will cost $11.99/year with Bluehost.
Your domain can be whatever you want it to be provided it is not already registered by someone else. For example you could have example.com, example.co.uk, example.club or example.space to name a few. Domain name providers have a list of different domain names you can purchase.
When choosing your domain, you can use letters, numbers and dashes to make up the name.
If you are setting up your website to operate in a local area then choosing a domain name with a local extension like .com.au or .co.uk is recommended. If you are setting up your website for a global audience then choosing .com is recommended.
.com is the most commonly used type of domain name and as such the availability of .com domains is far limited. Because of this, there are hundreds of other specialty domains available for many common industries e.g. you can purchase .club or .space or even .store to suit your needs. There are hundreds to choose from.
Search for your new domian name availability using the Bluehost Domain name checker.
Web hosting is where your website lives on the internet. It is often referred to as "the cloud" but really it is just a special type of computer connected to the internet.
Just like your domain name is like your address, your website hosting is like your website's house. The address points to your house or in other words, your domain name points to your website server.
Every single website needs web hosting. It is not just specific to WordPress. If you want a website then you need to purchase website hosting.
Bluehost is an official WordPress recommended hosting and domain name provider and one of the oldest most trusted hosting companies around.
Bluehost provide both domain names and website hosting so in these steps we will be purchasing them both at the same time.
Purchase website hosting and domain names from Bluehost

Get Started Now

.

On the

Bluehost homepage

there is a Get started now button. Click on it to purchase your discounted WordPress hosting and domain name.

Select your Plan
When you are just beginning online, it is ok to start small and then scale when needed. Any of the plans are great value. If you are unsure which plan to use, you can just select the basic plan and upgrade if needed.

Choose your domain
On this page you can either select your existing domain name or search for a new domain to purchase. Enter your desired domain name and select the next button.

Create your Bluehost account

Either select the Sign In with Google button if you have a Google account or fill in the details of the form. This page has a couple of optional addons which you can either choose or decline. If you are unsure then you can just leave them off and purchase them at a later date. You will also be able to select the account plan length. If you choose the 36 month price then that works out to be the best value.

You will need to put in your credit card information and accept the terms of service and privacy policy. Then you can click the Submit button to make the purchase.

Check your emails

Once the payment processes, you will receive a confirmation email and details on how to log into your new website hosting control panel (cPanel).

The cPanel is where you go to manage website hosting support, email accounts and other things. It is also where you will be going to install WordPress in a later step.
Now that you have purchased your domain name and website hosting, you can move onto the steps of installing WordPress.
[highlight type="tip"]If you are planning to invest in your websites longer term future then we recommend WP Engine WordPress Hosting. WP Engine hosting is not your average budget website hosting. You can get a lot more speed and performance out of it but the price reflects. If you're just starting out then Bluehost is perfectly fine.[/highlight]
How to Install WordPress
WordPress is easy to install on Bluehost and WP Engine alike but they are both different processes. You can see a number of the most common ways to install WordPress here in greater detail.
How to install WordPress on Bluehost hosting
Log in to cPanel

With the email you received when you purchased your Bluehost hosting, there should be login details to your cPanel.
Click on the link and log in using the credentials provided.
[highlight type="tip"]If you are hosting on cPanel (a very common hosting control panel amongst website hosting providers) then you can often go to "cPanel.example.com" where example.com is your domain name. It will then redirect you to your cPanels login page.[/highlight]

Install WordPress App

On the cPanel dashboard is a list of all the functions that you can achieve on your hosting server. They relate to certain topics such as hosting, emails, security and backups etc. Most of the icons can be ignored as you will likely never need to use them.

The one app that we will be using is the Install WordPress one. You may need to scroll down to the website section to see it.

Click on the install button to begin the WordPress install process.

Configure WordPress Install

Choose your domain name to install WordPress to.

If you wish to install WordPress in a subfolder then you can enter a subfolder such as 'blog' (i.e. web3.com.au/blog) in the field next to the domain. In most cases you want WordPress installed at the base directory of your website i.e. web3.com.au so leave it blank if you want the site's main page to be WordPress.

If necessary, you can edit the email address, username and password for the new WordPress installation. It is always a good idea to set a good password and change the username to something other than admin for security reasons.

You can click "advanced options" if you wish to change those settings and make them unique to you.

Finally, read through the license and service agreements and click the checkboxes once you are ready.
Select the Install Now button to complete the WordPress install.
Congratulations! How easy was that. You have successfully created your WordPress website.
Now that WordPress is installed, you can access the WordPress admin dashboard by going to https://example.com/wp-admin where https://example.com is replaced with your domain name.
An email should have been sent to your email address with your login details too.
Once you have logged in to your WordPress dashboard, you are ready to start designing your site and adding content in the next step.
How to Change Your Theme
The design and layout of your WordPress website is highly configurable. You can control the main look and feel of your website by choosing a WordPress theme.
By default, WordPress is installed with one of the TwentyX themes. You can choose to either keep the design as is or change it by installing another theme.
It is likely that the default WordPress theme does not suit your needs so you can change it by going to the Appearance > Themes menu.
WordPress themes can be obtained from a number of different places. You can browse through the thousands of pre-made free WordPress theme directory themes or purchase premium themes from a number of different places like our own Trisense theme or on Themeforest or Elegant Themes. Whichever place you go, you should be able to preview the theme and determine if the theme is the right fit for your desired website appearance and layout.
Once you have chosen the theme, you can install it on your WordPress website.
How to Install a WordPress theme from the theme directory
Log into your WordPress website.

Click on the Add New button and browse or search for your new theme. You can sort by popular, latest, featured, as well as other feature filters (i.e industry, layout, etc).

When you have found your desired theme, you can install the theme by clicking on the install button. Wait for the theme to install. Once it has been installed, the button will be replaced with an activate button. Click the activate button to make the theme live on your website.
Once you theme is installed, you will be able to customize it by going to the Customize page under the Appearance menu.
How to Install an external WordPress theme from WordPress Upload
Log into your WordPress website.

Click on the Add New button and then click the upload button.

Browse for your theme on your computer and select it.

Once the theme is uploaded and installed, you can activate it and it will be live on your website.
You can view a more detailed guide on how to install a WordPress theme here.
How to Write a Blog Post in WordPress
Once you have installed WordPress and chosen your WordPress theme, it is now time to add content to your website. This can be in the form of a page or a blog post. There is a pages menu and a posts menu to add each one.
Click on the Posts > Add New side menu button in your WordPress admin to go to the new blog post page.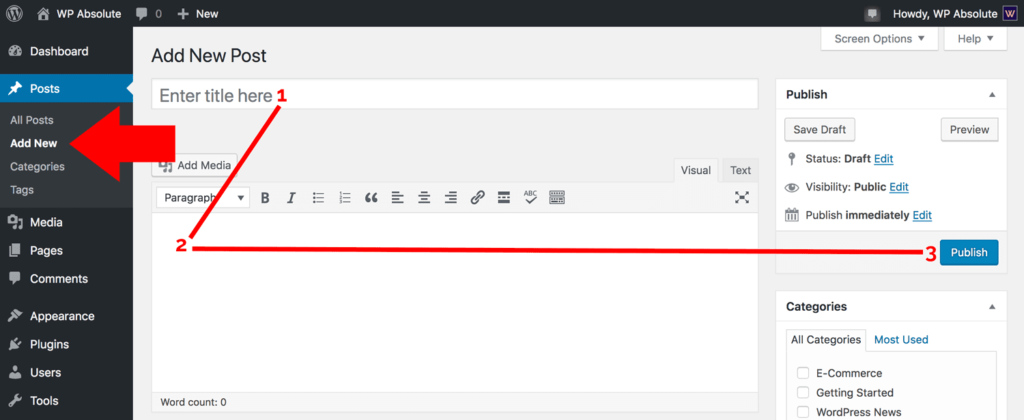 The new post screen is very similar to the new page screen. There is a title and an editor box to write your main content. On the posts page, and if your theme supports it, you can add a featured image. You can organize your post by adding tags and categories to it on the right hand side. Some themes and plugins will also add additional sections (called meta boxes) to these pages that allow you to further manipulate the content of that page or post.
Once you have finished writing your first post or page, click on the blue Publish button on the right hand side to make it live on your website.
If you are wondering what the differences between pages and posts are, there are a couple of distinct differences. The biggest differences between posts and pages are: Posts are often more timely and shareable based whereas pages are less so. Pages can have a number of different layouts whereas posts are usually more static type articles.
How to Customize WordPress with Plugins
Once you have created your first piece of content, you will likely want to extend and further customize your website. Anything that is added that is not a part of what comes with WordPress should be added as a WordPress plugin.
There are many thousands of plugins available that will suit most of your needs. For instance, if you want to add contact forms, sliders or SEO features then all of these features are added via plugins.
Plugins are simply little "apps" that you install into your WordPress site to add additional features. WordPress hosts their own WordPress plugins directory with over 54,000 plugins available for free. You can also download premium plugins from places like Envato's CodeCanyon or our own WordPress Plugins at WP Absolute.
[latest_deal length="full"]
We have an in depth guide on how to install WordPress plugins but the easiest way is as follows.
Log in to your WordPress dashboard.

Go to plugins > Add New in the sidebar menu.

Browse or search for your new plugin. You can sort by featured, popular or recommended. On the right you can search by keyword or name.

When you have found your desired plugin, you can install the plugin by clicking on the install button. Wait for the plugin to install. Once it has been installed, the button will be replaced with an activate button. Click the activate button to make the plugin live on your website.
Check out our recommended WordPress plugins list if you would like to know what our favorite plugins are.
Let us know if you think there should be an addition of your favorite plugin added to that list.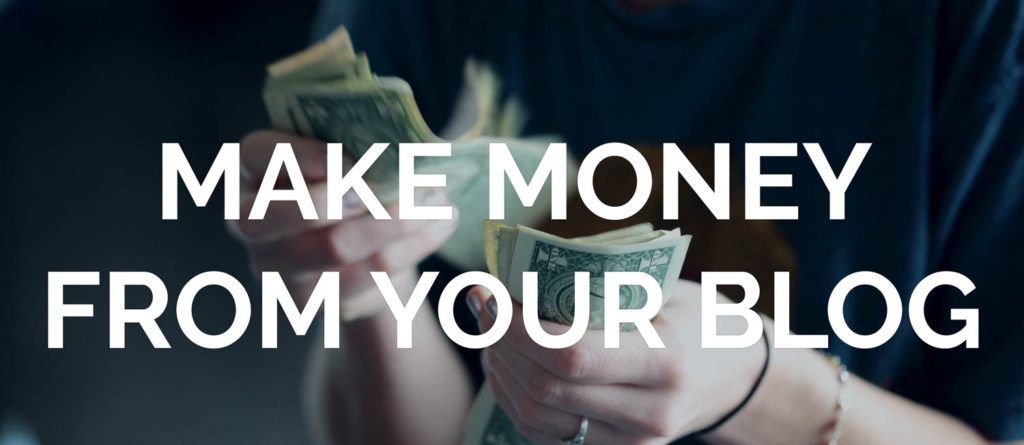 How to Make Money From Your Blog
One of the main reasons why so many start a website is to make money from it.
The benefit of a website is you can earn money from it in a number of ways and you can even earn while you are asleep. Having said that, there are no silver bullets to making a lot of money online and there is definitely no such thing as a get rich quick method. If you want to make money online then you need to work hard.
There are many ways to make money online. There are indirect methods such as promotion for offline sales and services and direct methods such as eCommerce sales and affiliate marketing sales.
We go into depth on this in our article on how to make money on your WordPress blog.
Trillions of dollars are spent online every year and the amount of money being spent is only increasing. You can earn money if you put in the hard work and determination to make it happen. There are no real shortcuts with making money online but with effort you will succeed.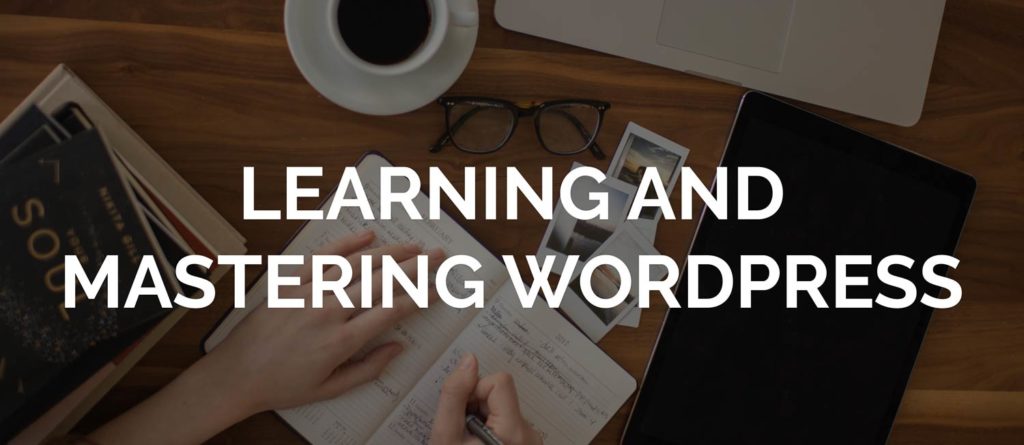 Learning and Mastering WordPress
What better way to learn how to use and master your WordPress website than right here with WP Absolute. WP Absolute is one of the largest free resources to help you get the most out of your WordPress website.
Our aim is to provide you with the absolute best WordPress tutorials that you can easily follow no matter your WordPress technical ability.
Where to go to learn WordPress:
Our WordPress blog is your first place to start when beginning with our WordPress tutorials.
In our WordPress Glossary we have a dictionary of the most common WordPress terms so you can familiarize yourself with them.
Watch our WordPress video Tutorials on our YouTube page if video is more your thing.
If you have a question or topic that you would like answered, let us know in the comments or contact us. Our goal is to educate you with the absolute best WordPress tutorials.
If this guide left you with some extra questions then here are some of your most common ones answered.
Can I create a blog without WordPress?
Sure you can. There are a large number of content management systems other than WordPress (both paid and free). We only cover WordPress tutorials on WP Absolute so doing your own Google search with return you with a list.
WordPress is certainly the biggest and most popular blogging platform and Content Management System around though so good luck finding something better than it.
Can I create a blog without hosting?
No you cannot create a blog without hosting. Every single website in the world sits on a hosting server of some kind. That is why we needed to purchase website hosting at the beginning of this tutorial.
As far as website hosting goes, we recommend Bluehost if you are just getting started or WP Engine if you want a solid foundation to scale when looking forward to the long term.
The same goes for a domain name. Although you can often access your website through either an IP address or your servers staging URL, to have any form of success online, you need a domain name. Domains also help with your branding. You can purchase your domain name through Bluehost.
How much does it cost to start a WordPress blog?
You can start a blog for as little as a couple of dollars a month using Bluehosts free domain and website hosting deal. If you want to add additional features that are not available by default in WordPress then you may need to pay for them. This can range from a couple of dollars to thousands of dollars depending on the size of the additions. The additions are usually plugins and theme purchases.
Additionally, you may need to hire some technical expertise if you require a professional design or custom development work to achieve what you are after. You can hire freelancers by the hour or companies under a contract. We run a web design, development and online marketing agency that handles a lot of higher end businesses that are growing online. If you need a hand, feel free to reach out.
Can I start a WordPress blog and make money with Google Adsense?
Like I mentioned above, there are a number of ways to make money online. Using Googles Adsense network of ads is an easy way to earn money. You earn money through Google Adsense by displaying other peoples ads on your website. When someone clicks on the ad, you earn a very small amount of money as commission for having the ad on your website.
You can either embed Google Adsense by using a text widget or you can use a plugin.
Can I start a blog without anyone knowing about it?
If you are wanting to start a blog and remain anonymous without anyone knowing then you can do that with WordPress. The first step is to ensure you have identity protection on your domain name. Check your domain name provider to see if you do.
[highlight type="note"]Your domain name provider will know who you are as it is a requirement to share certain details about yourself when you purchase a domain name.[/highlight]
On your WordPress website, it is simply a matter of not sharing any of your personal information so that you can remain anonymous. There is nowhere on WordPress that requires you to share your personal information. You have a profile that is used to identify yourself against posts that you publish but you can change your name to whatever you like.
Also, aside from purchasing your hosting and domain name, you do not need to input your credit card details anywhere.
You can also hide from search engines too. If you wish to discourage search engines from indexing your websites pages in their search engine then you can request to do so in the WordPress Settings admin area.
[highlight type="note"]Even though you set your site to discourage search engine indexing, search engines may still index your site if they choose to ignore your request.[/highlight]
How do I add a podcast to my WordPress blog?
There are a number of WordPress plugins that you can use to add a Podcast into your site. In the past we have used the PowerPress podcasting plugin for our web agency Web3 podcast.
How do I start a blog in multiple languages?
Starting a blog that has multiple languages is called a multilingual website. There is no 100% perfect way to automatically have a multilingual website. Although plugins exist to automatically translate the page, the best results occur if you manually write out each page or post in the language you want to use.
WPML or WordPress Multilingual is your best bet to translating your content as efficiently as possible. It is a plugin that you can use to manually translate your posts the right way.
Can I create a multi-author blog in WordPress?
Yes of course. WordPress comes with multi-author support built in out of the box. All that you need to do is to sign up an additional user as an editor onto your site. They will be able to publish their own content.
Hopefully you got a lot out of this tutorial and you were able to start your own WordPress website of your own. Now that you have your website online the next step (and the longest and hardest step) is to build traffic on your site.
Please share this guide with everyone you think needs help getting their website ideas online. Subscribe to our social accounts Facebook, Twitter and also watch our WordPress videos on YouTube.