A lot of thought needs to go into selecting your WordPress theme on your website. There are a number of factors that you should consider before purchasing or installing it. If you are just beginning or unfamiliar then it can be overwhelming to choose the right theme. There are thousands of themes available for you to choose from with each theme boasting a better feature than the next. But what should you actually look for when choosing your next theme? This guide covers the top 10 things you should look for when picking your next WordPress theme for your website.
Why you need to consider your theme carefully
WordPress has been around for a very long time now and has grown to great popularity among website owners. Millions of people use WordPress for so many different reasons. Because of its wide spread use, there are thousands of theme options available to choose from. Each theme covering a different niche.
You have to be aware that what might suit one websites layout will likely not fit another. Themes are made to suit a particular market.
If you are in search of an existing WordPress theme then a good starting point is to identify what market your website is in. For example if your website is for a photography business then you will likely want to showcase your photography on your website. Making use of a photography based theme will likely have precedence for photos. The layout always needs to enhance delivery of your content.
Your WordPress theme is the face of your website. It is what people see when they come to your site. You better make sure the one you choose is fast, reliable and best shows your brand.
So we know that we need to choose a good theme but lets look at the factors that will help to determine if it really is.
Simple is Better
The number one thing that a lot of people see when they select their first theme is how many amazing features the theme has. When a theme author has to compete against thousands of other theme authors, one of the tricks they do is add more and more features to make the theme a truly all in one beast.
This is very bad!
If you have a theme that does absolutely everything with its own custom shortcodes, sliders and page builders built in then when it comes to changing your theme down the track, you will be locked into this themes features and will have to rebuild your theme from scratch.
Not only will you be locked in but the more features you add into your theme, the slower it can get. You may need to have a slider on one of your pages but do you need 5 different sliders all loaded at the same time?
The answer is no way!
Google has stated time and again that the faster your website loads, the better it will be for your search engine rankings. This is because slow loading websites is bad for usability and is far more likely to cause people to leave for your competitors.
When choosing your theme, find a theme that is simple to use and does not come with dozens of flashy features that you will never use. A themes purpose is to make a unique layout for your website. It is not used to add features like sliders, galleries or contact forms to name a few.
Those features should be added by plugins. This is so that if your sites theme does change, these features will continue to function as it should.
Responsive is crucial
Your website needs to be responsive. That is, it needs to be able to function and layout correctly on any device that is using it. Whether that be a mobile phone, tablet or desktop computer.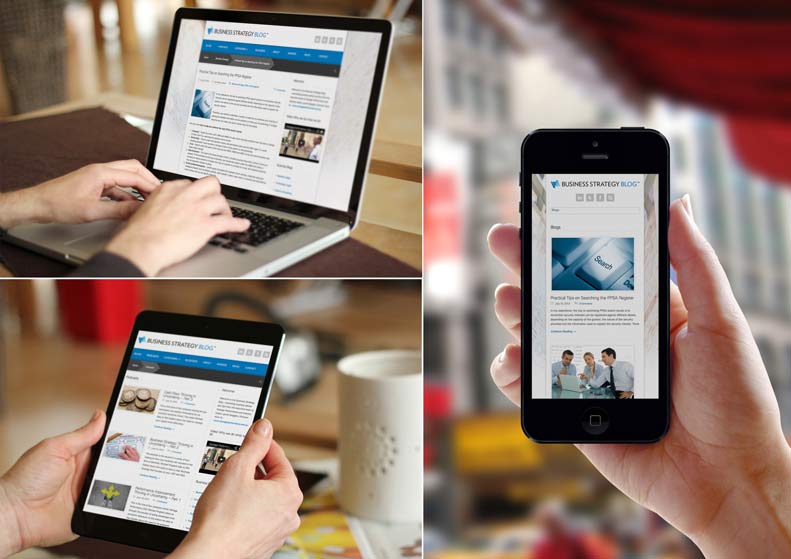 More and more people are using mobile devices to access websites. This means that you need to choose a lightweight theme that loads quickly on mobile networks that are not as quick as desktop wired connections and your theme needs to respond to the size of the device that is being viewed.
Apple sold over 77 million iPhones in the first quarter alone of 2018. That is not to mention the countless other phone companies around the world selling phones too. There are billions of people using mobile devices to access the web.
Chances are that your websites niche attracts more mobile users than it does desktop.
Google often experiments with the rankings of mobile websites. They have stated that mobile optimized websites rank better in mobile search results.
Fortunately the terms "responsive" or "mobile optimized" have been around for a long time now and you will find most sites are mobile optimized already for you. Still, there are some themes that have not been made responsive.
How do you check if your site is responsive?
The easiest way to test if your site is mobile optimized or responsive is by loading your website on a mobile device. Sure you could drag your desktop browsers window in to make it mobile sized but nothing truly beats actually using it on mobile.
Is you site easily readable and navigable on the device? You should be able to achieve all of your sites objectives on mobile just as easily as you can on desktop.
Your mobile website should sit perfectly within the screen size of your mobile device. Swipe your finger across the screen to see if the website scrolls unexpectedly off screen. Pinch the screen to see if the website zooms. Ideally it should not and if it scrolls horizontally then the site may need to be mobile optimized.

You can also test for mobile friendliness by going to Googles mobile-friendly test page. If your website is not mobile friendly then the test will fail and indicate what you need to do to fix your site to be mobile-friendly.
If you are considering purchasing a new WordPress theme then you can copy that themes demo URL into the mobile-friendly test and it will run to see if it is optimized for mobile.
Browser Compatibility
Websites are often very difficult things to manage. They need to work across a vast array of screens and devices. What is just as important is that the website displays how it should on the web browser that your website visitors are accessing it from.
You may be using for example, google chrome to access this website but your customers may be using Firefox to access your site. Each browser has their own quirks and it is important to test your website in as many different browsers as you can.
The information to see what browsers people are using to access your site is not something you should guess. You need to know based on the hard numbers. This information is best discovered in your Google Analytics.

To find what browser your customers are most using, go to your Google Analytics and browse to Audience > Technology > Browser & OS.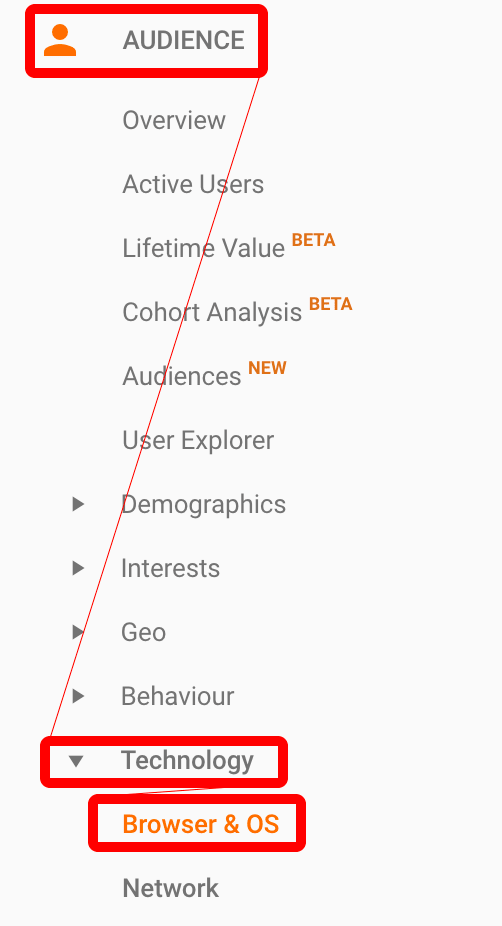 This will be a list of all the users browsers. Make sure if you are providing the browser compatibility or directing your web developer to do so, that you focus on the top browsers that have the most users for greatest reach.
Luckily for us, the web is rapidly developing and getting better. It is not as painful to make your website display correctly on all browsers as it once was.
The top web browsers to test your website on are: Chrome, Edge/Internet Explorer, Firefox and Safari. You should also test the website on tablet and mobile browsers too. Ask your theme author if they have done this sort of rigorous testing on these browsers before you purchase your theme.
Supported Plugins
Plugins provide countless abilities to WordPress that do not usually come out of the box. Themes are not meant to have dozens of features like contact forms or sliders that are usually reserved for plugins.
Plugins are used to enhance your WordPress theme. Good themes will make sure that there is the widest amount of compatibility with plugins.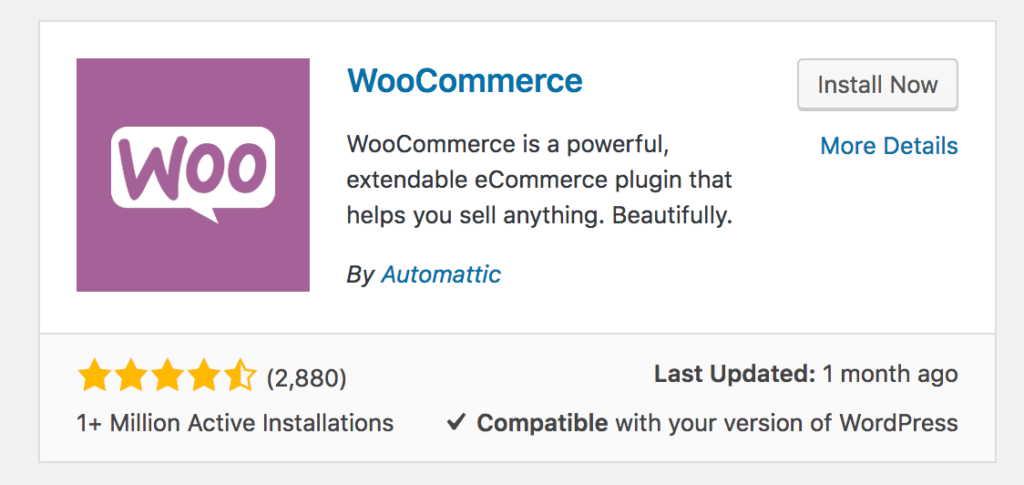 Plugins like WooCommerce, Gravity Forms and Yoast SEO are so popular that chances are you are using at least one on your site. Good support means your theme will integrate features or provide the correct styling to make it work perfectly on your site.
Choose a theme that supports the plugins that you will be using on your site. If you're going to be using WooCommerce for example, make sure the theme supports it.
The quickest way to find out if your theme supports it is to ask the theme developer.
Translation + Multilingual Ready
Is your website going to be reaching customers from all over the world? If so then you may want to translate your website to the language of the people who are using your website.
Sure your customers can use a translating tool like Google Translate to interpret your website in their language but often it is very hit and miss.

The best way to reach your customers overseas is by manually translating the site for each language you want to target. Luckily this is made a lot easier with translating plugins like WPML (WordPress Multi Lingual).
For your website to be able to be translated to another language through translating plugins, the theme needs to be built for that purpose. It is impossible for WordPress to translate text that has been hardcoded into your themes files.
Page Builders
Page builders are both great and terrible at the same time.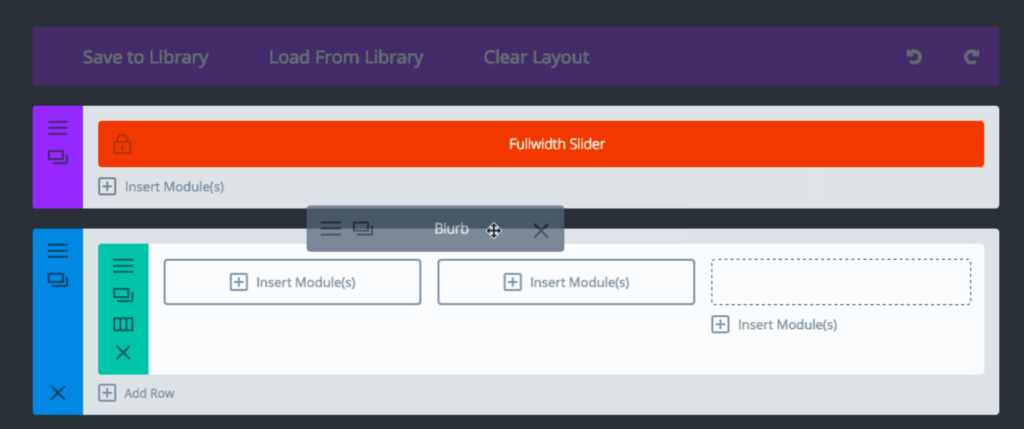 Let me explain.
There are both positives and negatives to using a page builder. The positives of using a page builder are:
You can build a page on your site in a visual drag and drop way
It is often far easier to build a site when its visual.
Most page builders have the ability to import pre-built page layouts.
The reason page builders are bad is because:
They are built for the page builder. When you change theme, if the page builder was built for that theme then you may lose the content on that page.
Often page builders insert a lot of bloated code which slows down your site and can cause errors.
They are often bloated with features that help sell the page builder but that you will never use.
There are several extremely popular page builders on the market. Some of the most popular ones are wpbakery Page builder, Elementor and Divi Builder. These are plugins that are universally compatible meaning that they are built to be used with any theme.
If you're going to change your theme and you are using one of these page builders than you will not lose your page layout on a new theme.
The best pages are those without the use of a page builder but if you're going to use one then best to use one that will continue to work after you have changed themes.
Support Options for When You Need Help
If you are just starting with WordPress or you are using a WordPress theme that you are unfamiliar with then chances are you will need help with it. The best help comes from those that know it the best.

If you are using a free theme from the theme repository then you may not get the support that you need. This is because theme authors are unable to sustain continued support from something that is free.
Support can be hit and miss. Some theme authors may have fantastic support for their free themes while others may choose to not support their themes at all.
When you mess something up and there is not support then you might have to call on a WordPress support service to help fix your broken site. This can often be prevented with thorough documentation backed up with support methods.
That is why premium or paid themes usually have great support because they are maintained by paid workers. If you choose to use a free theme then make sure the theme is well supported before using it. You can get an indication of how good their support is by the number of installs and the star ratings it has.
SEO Friendliness
Many themes claim to be SEO optimized. Having an SEO optimized theme is only a very small part of having a truly optimized website for SEO.
If a theme is SEO optimized then it will be using valid and semantic markup without any coding errors. There is not really a definitive way to tell if a WordPress theme is SEO friendly. You could check the websites source code to see if what it produces is not bloated and is free from errors.
The w3c markup validation service will help to determine if your website is free from any markup errors. Note that you will likely see unnecessary recommendations to fix errors or warnings. You will be able to tell by reading the error if it is actually an error or not.
Ratings and Reviews
Ratings and reviews are often a good way to determine if a theme is good or not. No theme is perfect and there will always be unhappy people who will give a poor rating. If the theme has more unhappy ratings than it does happy then that is often a pretty good indicator to avoid using the theme.
On the WordPress theme directory you can see the themes rating determined by a star system from 1-5. Next to the rating is the number of users who have given the theme a review.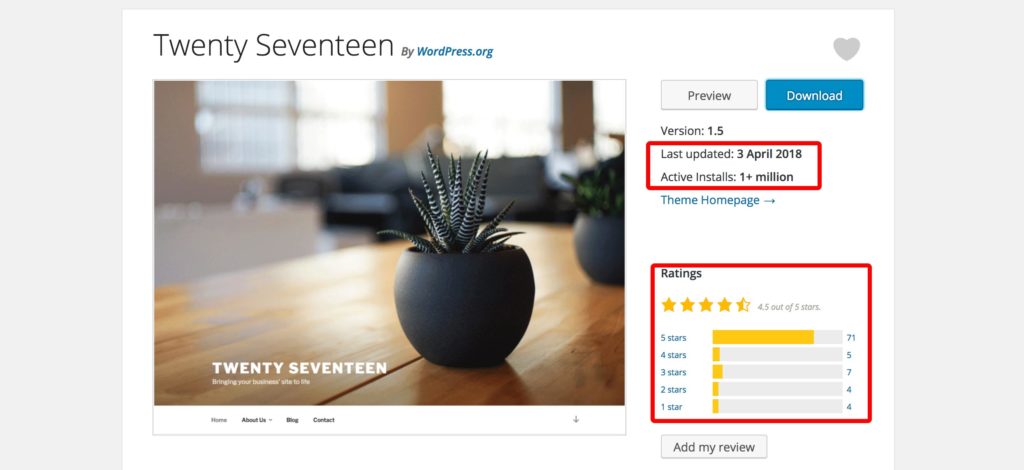 On third party theme directories, there is usually an indication of how many people are using the theme and often comments to go along with it.
Read the reviews and see how many people are using the theme to get an understanding of whether the theme is a good theme or not.
Putting it all together
Choosing your theme for your WordPress website is very important. There are a number of considerations that you need to consider to ensure a successful website.
If you choose a theme that is not good then you can get overwhelmed, or fail at building what you set out to build. That is why you need to consider the top nine factors when choosing your new WordPress theme.
Overall and most importantly your theme needs to work for you. It should be simple and widely supported by both web browsers and the theme author.
WordPress themes are always being released onto the theme directory and other third party theme sites. There are plenty of terrible themes out there and that is why choosing a well supported and highly rated theme means you cant go wrong.
If you are looking for premium themes then your best bet is to go with reputable locations like:
Once you have picked and downloaded the one you want, you need to install your wordpress theme onto your WordPress website.
Did this guide give you a better idea on what you need to look for when installing your WordPress theme? Let us know if there is anything else you looked for when you chose your theme. If you are still looking for your theme then let us know in the comments below what is stopping you from choosing the one for you.
Do you like WordPress? Stay up to date with the latest WordPress guides and tutorials by subscribing to our YouTube channel and Facebook page for the latest WordPress guides as soon as they are released.