A few weekends ago, I was selected to help coach startups at Startup Weekend Sunshine Coast. One of the organisers asked if I could deliver a presentation on how to get the startups a landing page online in the fastest and most cost-effective way possible.
Although we build all of our websites using WordPress at Web3, for a dead-simple landing page, a fully fledged Content Management System such as WordPress would be somewhat overkill.
For a non-technical startup founder wanting to quickly throw up a landing page to help test, measure and validate their idea, a website builder tool like Unbounce is a better solution. However, If you need anything more than a simple landing page, then WordPress generally is a better solution.
Here are 10 steps to build and launch your own landing page in 30 minutes using Unbounce.
1. Register your domain name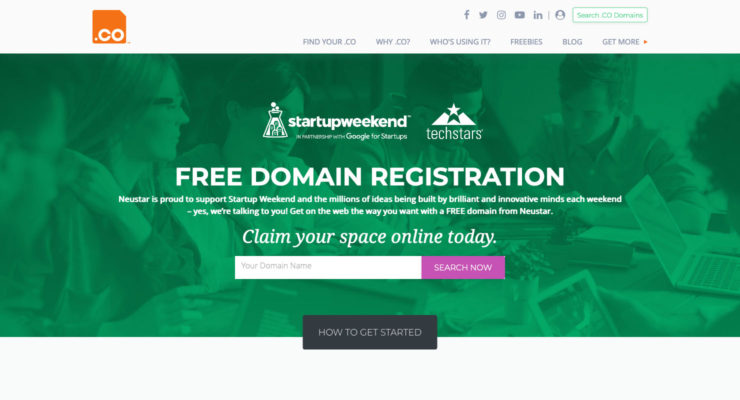 The first ingredient for a website is its domain name. You can get cheap domain names at GoDaddy, Crazy Domains and Zuver. The average 12 month registration cost for non-premium domains is between $6-15 AUD depending on the domain extension (if you know of any cheaper and reputable domain registrar, please leave comment below).
The domain registration cost is the only amount of money you'll need to spend in getting your landing page online.
Tips for choosing a good domain name
Are you a local business or geographically unbound business? If you are local, register your domain name under your country's domain extension e.g com.au or .co.uk. If your business is geographically unbound e.g an app or software product, try and register a .com
Is the exact name of your startup available to register? If yes, then register it
If it is not available, try different domain extensions like .co, .io, .me etc.
If you are still not having any luck, amending a relevant prefix or postfix to the name.

Avoid domain hacks e.g brightb.it or del.icio.us – these are hard to say, difficult to remember and are easy for your users to mispell.
You can read more about choosing a domain name for your business here
2. Update your domain's CNAME record to connect with Unbouncepages.com
Once you've registered your domain name, you should receive an email containing the logins to your domain name account. The domain name account interface varies depending on your domain name register.
The next step is to log into your domain name account, and navigate to the CNAME record section. Once you've located it, change your domain name's CNAME from the default value to unboncepages.com and save it.
Watch the screencast above on how to do this from the pop.co domain name account manager.
3. Go to Unbounce.com and sign up to the starter plan free 30 day trail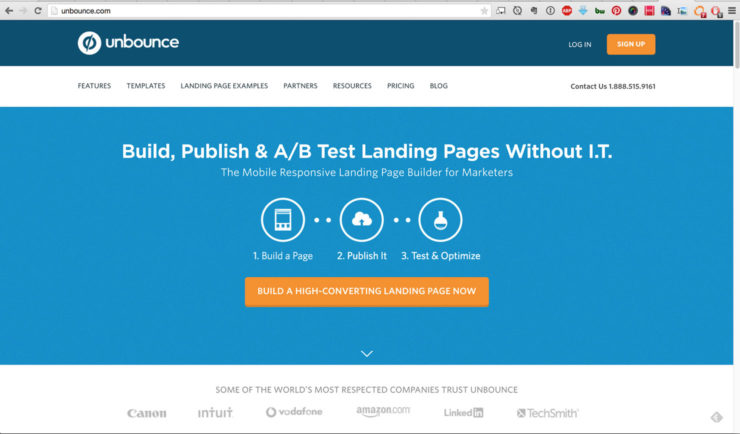 Unbounce is arguably the best non-technical tool for building, publishing and split testing landing pages.
If your startup idea begins to take off and you need a more powerful website, then you should consider moving to WordPress. The goal here is build a landing page to help validate your idea in the cheapest and quickest way possible.
4. Go to the domain panel and select root domain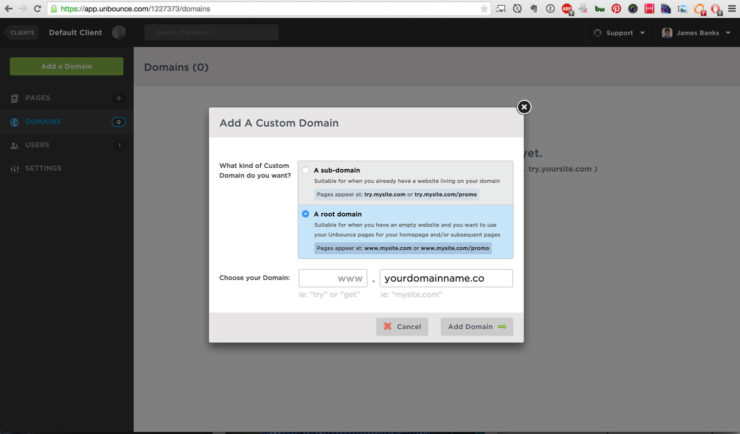 Once inside Unbounce, the first thing you need to do is connect up your domain name. Follow the steps from the domain panel to achieve this. Since we have already added the CNAME record in the second step, you don't need to worry about this.
If you're lucky, your domain will be ready to go live once you've completed this step. If not then don't panic, it can take up to 48 hours for your domain to sync up with Unbounce.
5. Click on pages > create a new page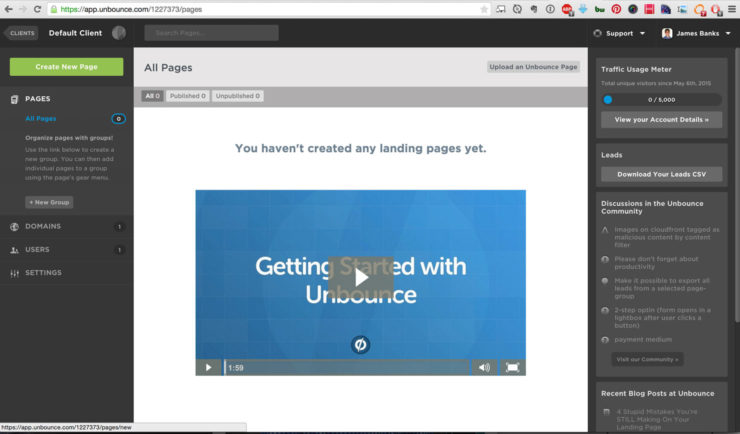 With your domain hooked up, it's time to build your landing page
6. Choose the minimalist light template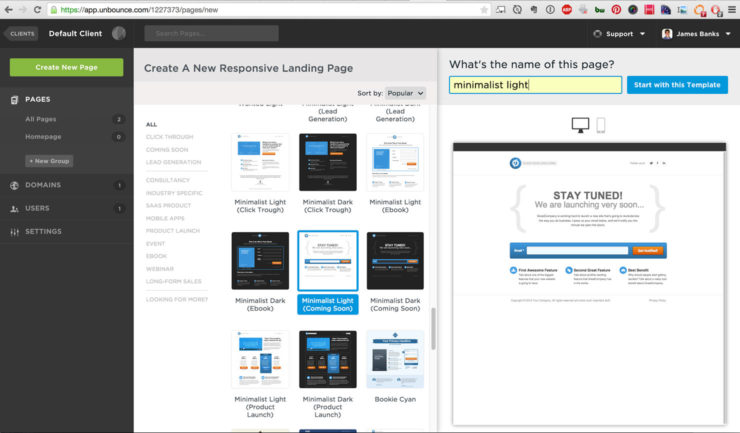 Unbounce has a large amount of different templates ranging from basic landing pages to full blown marketing website. Ignore the prettier ones for now and select the minimalist light template. I'll explain to you why in the next point.
7. Build your landing page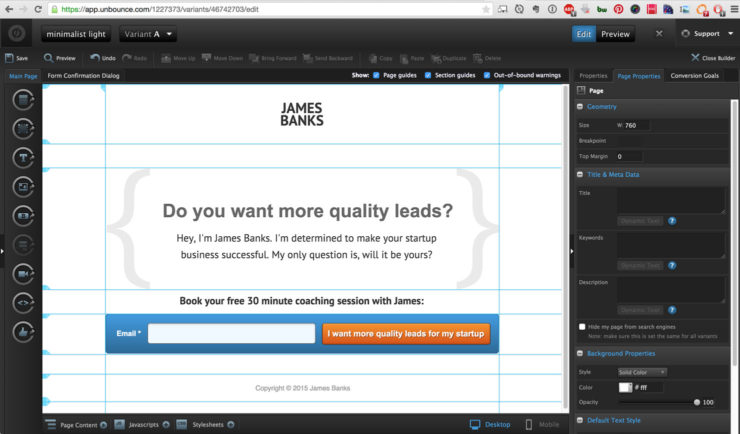 One of the biggest mistakes startup businesses make is wasting a whole bunch of time and money on building a full-blown marketing website when they have zero revenue and zero customers.
Rather than spending months building a full-blown website based on assumption, start with the bare minimum. That way, you can get your website in front of your potential customers quickly so you can start collecting both quantitative and qualitative feedback around what works and what doesn't.
Instead of making design and usability decisions based on assumptions, you can make better quality decisions that are backed by qualitative and quantitative data..
Numbers don't lie. Build a minimum viable landing page to test your assumptions, then test and measure every single addition to your website. That way, you know if what you are adding is actually helping to increase your sales, leads and conversions on your website.
If something you add to your website decreases conversions, remove it. If something you add increases conversions, keep it.
It's that simple.
Following this data-driven approach to web design will save you a huge amount of time and money in the long run.
A/B split testing is one of the best ways to test your assumptions so you can see the numbers on what aids conversions and what detracts conversions.
When should you start A/B split testing? The general rule of thumb is to start once you've achieved at least 1000 visits per month to your landing page.
For now, the objective is to get your landing page up and live so you can start promoting it.
8. Craft your problem/solution/target & next step message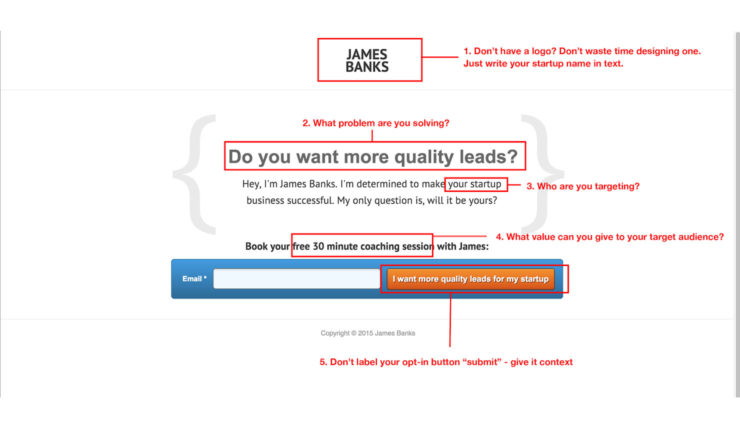 Once you're inside the Unbounce page editor, delete everything but the following four components:
Your logo. If you don't have one, write your company's name in text. Don't waste time and money getting a pretty logo created when you have zero validation if your startup idea will actually work.
Clear and concise sentence or few words that defines the problem that you are solving.
Statement that defines the solution and market you are targeting
Next step conversion point. If the conversion item is an email opt-in, then incentivise the opt-in with an item of value that can be ideally given away for free.
9. Set your created page as your homepage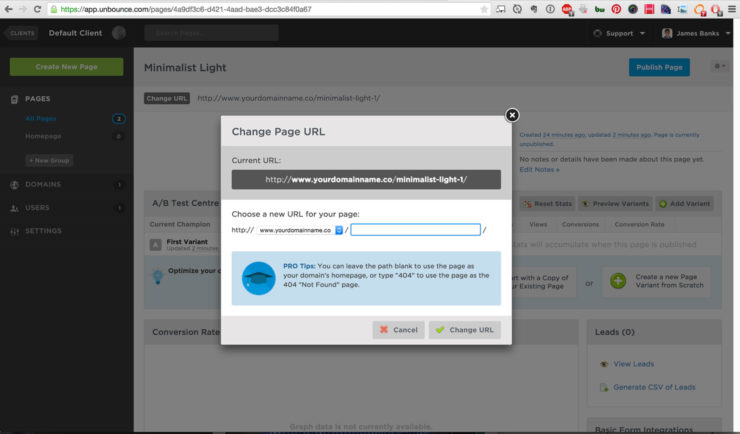 Once you've finished building your landing page, hit the save button. Navigate back to the pages section, and make sure your newly created page URL is set to your homepage.
By default, Unbounce will set your landing page URL to something along the lines of: www.example.com/name-of-template. To fix this, remove the name-of-template part from the URL editor.
10. Once your domain is hooked up, hit that publish button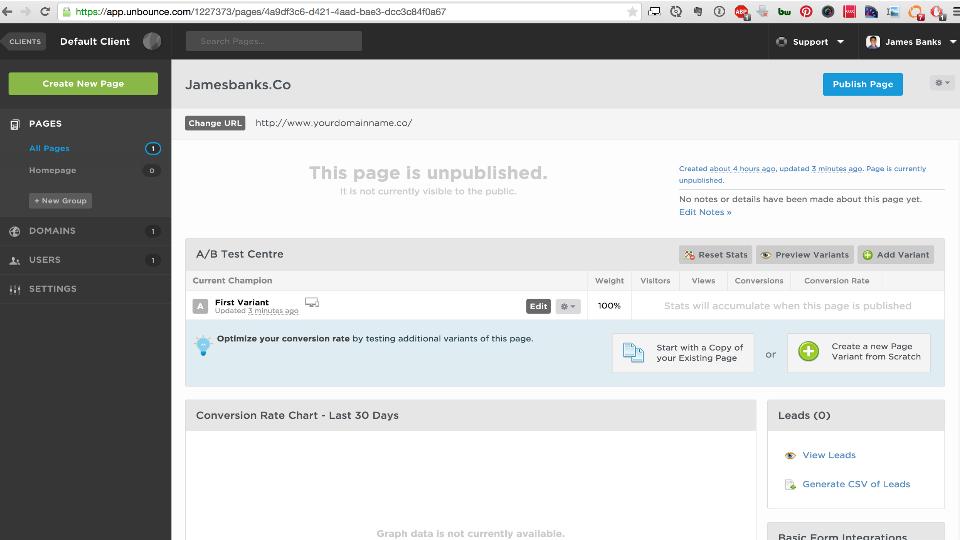 You can check status of your domain from the domain page. Once your domain is connected to unbounce, hit the publish button from the pages interface. Voila! Your website is live.
In today's day and age, you need next to no technical skill and money to create very basic websites for yourself.
WordPress is an incredibly powerful tool that can do many things that Unbounce can not. However, when it comes to getting online in the cheapest and quickest way possible, it is hard to beat Unbounce.
Is there any tools in the past that you've used to get online? What has been your experience using them? Please share your thoughts in the comments below.