One of the most common problem that most small business owners and entrepreneurs face is not having enough time. Unlike money, time is a non-renewable resource. Once time has passed, it is gone for good.
With that said, getting more work done in the same period of time results in more money for your business.
When it comes to productivity, the internet is a double-edged sword. On one hand, it can be a huge source of distractions that saps away valuable time from your day. On the other, the internet can increase productivity across your business, allowing you to get more done for less.
Over the years, the Web3 team has trailed dozens of different online tools. The aim for implementing a new online tool into the business has been to increase productivity.
Below you will find details on how to action twelve of these tools into your business so you can get more done for less.
1. Get your ideas & workflows into an online management tool
If your business delivers a service or a product, you need to be using an online project management tool. Having your ideas, processes and communication managed from a central location will save you a truck load of time.
By having this data accessible online, you'll be able to manage the project from any device at any given time. By doing so will reduce double-handling, status updates team meetings, and micromanagement. All these things drain away precious time, which an effective online project management system can remove the need to do so.
Here are five project management tools that we have spent considerable time using at Web3:
Trello – The online version of the post-it note covered whiteboard. If you like timeline views and having everything spread out in front of you on a single page, then Trello is your best bet. Trello is our project management tool of choice. Free with paid for features.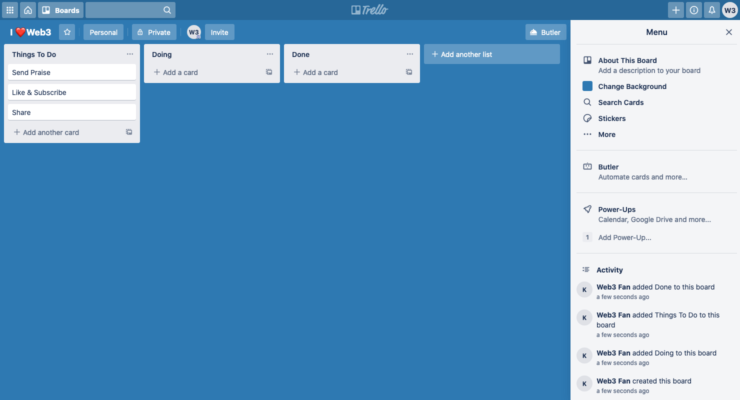 Basecamp – A paid-for list-orientated project management tool. Adds extra functionality compared to Asana like file storage, client hide/view settings. It also has more sophisticated team communication built in. Pricing starts at $20 per month for up to 10 active projects.
Asana – A free list-orientated project management tool. Like Basecamp, but focuses only around list items. Great for simple projects that can run out of a to-do list. Free with paid for features.
Podio – The roll-your-own project management tool. Allows you to tailor your own project management environment by using a wide range prebuilt apps. The most flexible tool out of all on the list. Free for up to five users.
Jira – Atlassian's powerhouse software development platform designed for software and SaaS companies. It allows for the most depth and macro-issue tracking out of all services listed here. It can be overkill for managing simple projects and small teams. Pricing starts at $10 for up to 10 users.
Bonus tip – Automate your project management
Most businesses will have a certain amount of reoccurring tasks that happen on a daily, weekly monthly or annual basis. Some common examples include:
Scheduling team review meetings
paying wages
lodging tax statements
sending marketing emails to potential clients
updating your mailing list
saving online form entries to a Google Doc
These tasks are all tedious yet necessary to the operational tasks for any business. Apps like IFTTT (abbreviation of If This Then That) and Zapier can save you a bunch of time automating the set up of these recurring tasks. This way, you do not have to remind yourself, then set up these tasks up by hand each time.
Here's a few examples of tasks that we've automated using the services above:
Creating a new daily action item to do list inside Trello every morning before our team members sign-in. We link our business systems which provide instruction how to complete each task to the Trello card. The automated task list reduces micromanagement and having to repeat instructions.
Create a new weekly review Google Doc on the day that James and Joseph conduct our weekly business review
Send a weekly progress update reminder to the team inside Trello. The card comes pre-populated with instructions on how to correctly format the update for us. This removes us from having to follow up on updates and repeat instructions.
2. Spend less time managing finances by moving your accounting to the cloud
Your business is cash-flow is one of the important metrics that all business owners need to be tracking. It can be difficult to track your businesses financial metrics without the right tools.
With the abundance of affordable online accounting tools avalaible today, there should be no reason why finances should be manually controlled through something like a spreadsheet. Not only will a cloud based accounting program save you time, it will reduce accounting errors which can take a lot of time to rectify.
Here's two different that we've used to manage Web3's finances:
Freshbooks – A simple, easy and affordable accounting tool perfect for freelancers. When Web3 was just James and Joseph, we managed our finances and invoicing from Freshbooks. Fast and easy to setup; difficult to get it wrong. Pricing starts at $9.95 per month for up to 5 invoicing clients.https://www.youtube.com/watch?v=ySHC-ffp0bQ
Xero – The de-facto accounting tool for most modern businesses. If you have either payroll employees, subcontractors or revenue is subject to tax, then Xero is for you. It is best to speak with your accountant and have them set it up for so. When Web3 grew out of Freshbooks, we decided to move our accounting over to Xero.
Thinking that it would be as simple as Freshbooks to setup, we went ahead and did this ourselves. After consulting with our accountant six months later, we realised that we had set it up all wrong. This meant that for six month, Xero was throwing out incorrect financial data.
This resulting in a long and expense process of backtracking expenses until the numbers were true. Long story short: get your accountant to set it up for you, or find one that can.
Many small businesses get their start by taking out a loan, but generally in order to do that they need to have a solid plan in place in order to be extended a line of credit by any financial institution.
And generally, in order to make a cohesive outline of your future business plans, you need to know how much you could potentially borrow.
Fortunately, tools are available to businesses to aid the funding process as well. Between loan finders and loan calculators, much of the number crunching part of this process can be handled online.
3. Get paid faster by automating your payments & invoicing
Making sure that you and your workers get paid on time is key to any business's success. Sending and following up on overdue invoices a task that all business owners have had to pain through with at some point.
Fortunately, there are several ways that you can automate this so you can save time on creating and chasing invoices.
Stripe – One of the most cost-effective solutions for taking recurring payments. Your client enters their card details on your website's stripe from, makes the payment, and that is it. No invoicing, and no headaches chasing overdue payments. Stipe has no monthly fees, but takes a clip of 2.9% + 30¢ per successful transaction. You will need to integrate Stripe into your website for it to work, so you may need a developer. WordPress site owners can use either the Simple Stripe Checkout or the Gravity Forms + Stripe extension to achieve this.
Bill.com – If payment gateways isn't for you, but you still want automate the payments, then Bill.com may be the answer. Bill.com integrates with popular accounting platforms and allows you to send automatic reoccurring invoices. You can automatically debit your client's account of a certain date and interval, like Stripe. Pricing starts at $19 per month with a $0.49c flat rate charged on each electronic payment received.
Wave – If Xero and Stripe had a love child, it would be Wave. Wave allows your clients to pay you from the invoice using Stipe which comes built into the app. It currently does not support recurring debit payment like the two options above. It also doesn't have as many accounting features compared to Xero. It is free to use, with a 2.7% + $0.30c flat fee per transaction.
As a savvy business owner, it only makes sense to use online tools to make sure your company runs the most efficient and cost effective way possible.
Not only do you owe it to yourself, you owe it to your team and your customers to be best small business owner or manager that you can be.
How are you planning to make your business more efficient in 2015? Please share any tips, or productivity tools that you have implemented in the comments below.