Throughout the years, I've sat down with hundreds of business owners who have expressed to me their pains and frustrations with their WordPress website.
Out of all these meetings, one of them stands out in my mind as something that I'll never forget.
After exchanging handshakes with this particular business owner, she handed me her business card.
It was a pretty run-of-the-mill looking business card: white background, lots of whitespace, some company branding along with the usual contact details.
I noticed that there was a big black marker pen line drawn over some of the contact details on the reverse side of the card.
When I asked her why there was a big black pen line scrawled on top of an otherwise nice looking business card, she paused and went red in the face.
She told me that she puts so much effort into presenting herself as a trustworthy and credible person. She particularly focuses on creating a good first impression of herself to prospective customers. But yet, she was so embarrassed by her outdated and ugly looking website that she scribbled out the URL on all her business cards.
She felt that all the trust and credibility would be torpedoed the moment they clicked onto her circa 1999 website.
This experience got me thinking about just how much trust plays as a factor in driving more conversions from your WordPress website.
If your potential customers do not trust you and your business, they will be reluctant to buy from you.
Your WordPress website serves as a touch point that your potential customer often will have with your brand before they make the decision to get started with your product or service. So, it is important that your WordPress website builds trust and credibility with your potential customers to increase the chance of landing more paying clients.
Here's a TL;DR slide deck of the 10 ways to build trust through your WordPress website so you can convert more customers. For a detailed explanation on each point along with some bonus templates and resources, keep reading on below.
1) Testimonials & reviews
When a good friend or colleague recommends you a business, you're inclined to trust it more than if you stumbled upon it by chance. This same thought process applies online as over three quarters of consumers trust online testimonials as much as personal recommendations.
This makes having testimonials and reviews of your product or service an excellent way to build trust through your WordPress website.
Here's some tips to follow to create excellent testimonials for your business:
If you do not have any testimonials for your business, look back on your messages when your customers have praised you. You can combine these sound bites of praise together to build out a solid testimonial. I find this strategy effective in getting testimonials fast, rather than waiting on your clients to give you one.
Avoid highlighting the expected features and benefits in your testimonials. For example, a testimonial that states "Web3's support is prompt" does not highlight any unique value. The customer already expects that paid support needs to be prompt. Instead, focus your testimonials around highlighting the unique selling points and differentiators.
Include your customer's full name, business position and business name along with the testimonial. This helps to add more credibility to the testimonial.
Ask your customers if you can use a photo of them to go with their testimonial. Ask if you can use their Linkedin, Facebook or Twitter profile photo as long as it is respectable.
Don't clump all your testimonials in one area on your website. Instead, place them across the pages on your website that are key for conversion. For example, the average customer journey through a marketing consultant's website is: homepage to services page to contact page to enquiry. In this case, you want to place testimonials across these pages so that trust is established along each step to the point of conversion.
2) Awards or recognition
Logos of industry awards and recognitions on your WordPress website is an inexpensive way to create trust and credibility with your audience. A common myth is that to become an 'award-winning business' you need to be well established with years of being in business.
However, a quick Google search of business awards will uncover an range of awards you can enter for free or at a small cost.
If you do win an award, placing the award logo on your website can help to create more trust and credibility.
If you're doing business in Australia, here's a shortlist of awards that you can enter your business into for little to no cost:
3) Places you've been featured
As with using award or recognition logos to create trust and credibility, the same goes for publications that you or your business has been featured in.
I've applied this practice on the landing page for my first book that I'm writing, 99 Ways to Speed Up Your WordPress Website. As I have no previous credibility as a book author, it would have been difficult for me to position my book as a credible source.
To convey a level of trust and credibility throughout the landing page, I leveraged on Web3's PR features and reader testimonials as outlined in step 1.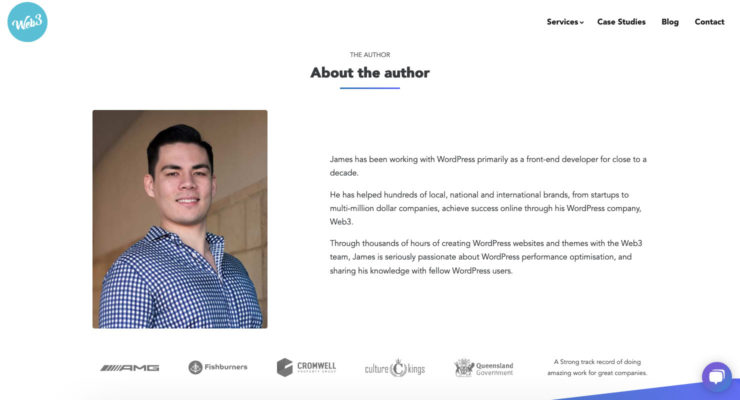 If you want to get some press coverage for your business but don't know where to begin, then your first step is to sign up at SourceBottle. Once you've created a free account, you'll have publicity opportunities from industries that you can choose from emailed to you daily for free.
4) Number of people in your database
As your business grows, you'll start to generate a database of fans, potential customers, clients, followers and anyone between. The number of this database can be used to build trust and credibility for your product or service.
Hubspot's call to action on their homepage states that more than 11,500 companies in 70 countries use HubSpot's marketing and sales software to grow. They have done so to immediately establish a high amount of trust (more than 11,500 companies) and credibility (global use across 70 countries) with new visitors to their website.
When trust and credibility of the brand established immediately, it compels new visitors to take the next step. This helps to increase the chance of sale for the company's services.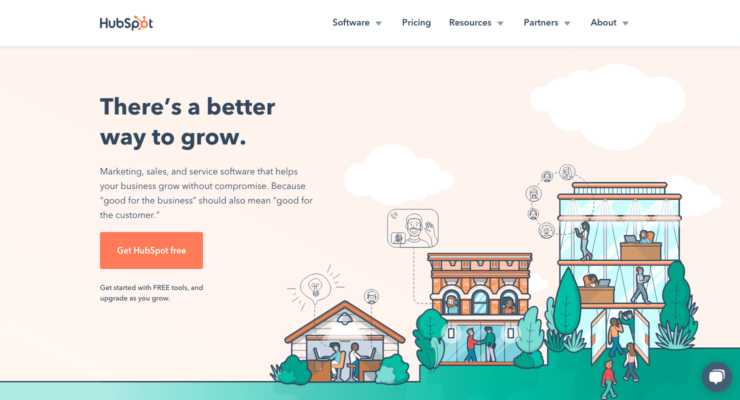 If you're a new business and you don't have thousands of customers, you can still use this technique to help build more trust and credibility through your website.
If you're sharing your blog's content on your Linkedin profile which has hundreds of connections, you can frame a call to action of your website's opt-in as 'Join hundreds of business owners in receiving free weekly tips'. As with the Hubspot example, this helps to confirm the reason why you should opt-in to the list through the social proofing of the 'hundreds of business owners'.
5) Leverage trust-building facts about your business
If you've got customers using your product or service, are you tracking the results that your product or service is delivering?
Thankyou is an excellent example of this practice in play. The outcome of Thankyou's brand is the impact that each sale of their products have in developing impoverished communities all over the world. Thankyou measures the impact of their product, and displays this data on their website through a map of the world.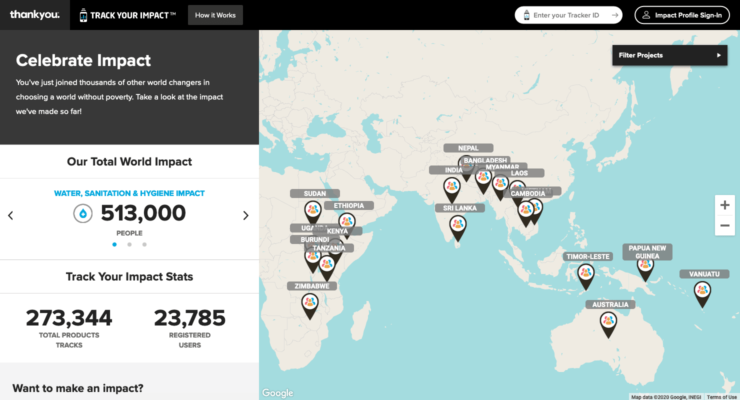 This builds massive trust and credibility behind the brand as this is:
Showing the brand is having a global impact
Showing the amount of impact that each product sale has made which creates transparency and trust behind the Thankyou brand.
6) Social likes or shares
If your business has a large following on social media, you can leverage that number to create social-proof on your WordPress website. For example, each post on the Mashable.com homepage shows the amount of shares per post. For someone that has never come across Mashable before, seeing that each post on the site is on average getting hundreds if not thousands of shares indicates that:
If the post is getting hundred of shares, it must be a good post.
If all posts on the website are getting hundreds of shares, it must be a good content brand.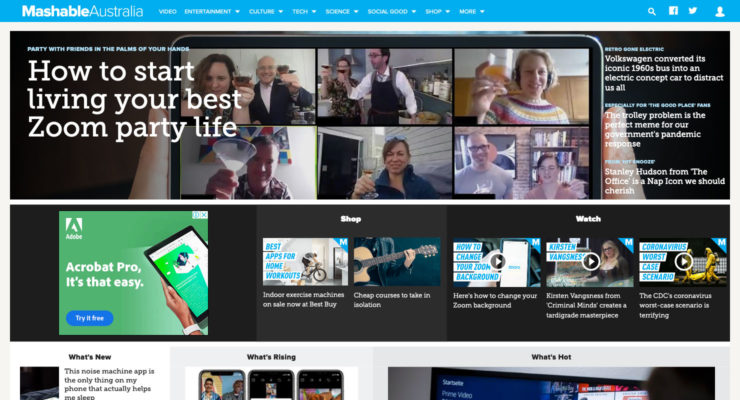 For businesses that have a small social following, you are better off keeping social counters off your website.
As an example, Business X has a Facebook like counter button in their top navigation bar with less than 100 followers. A new visitor to the site sees this, and their immediate reaction will most likely be a negative perception of the brand.
This can hurt the chances of that viewer taking the next steps with your business.
Instead, replace the social counter buttons with buttons to like & share your website's content until you have built up a strong social following for your business.
7) Trust Seals
If your WordPress website handles credit card payments, then adding payment and trust seals in and around the key buy-in points on your website can help to build trust. Wrapping a line of supported payment vendors around your buy button helps to create a passive level of trust through brand association.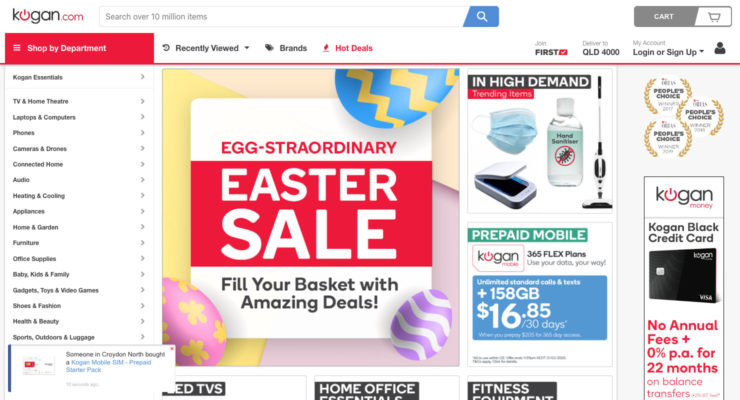 8) World-class design
Whether design plays an important role in building trust with your potential customers has long been a debatable topic. Design is subjective in nature, which is why opinions about it are always divided.
We all realise in business that first impressions count.
If you turn up to a networking event hungover and still in your pyjamas, then most people's first impressions of you and your business are going to be pretty low. The same applies for your WordPress website. If your website looks like it is from the MS-DOS era, your viewers are not going to look too positively on your business.
The main challenge that business owners face in achieving a world-class design is that world-class designers are:
Too hard to find.
Too expensive to be hired.
So what can you do to create a world-class design without breaking the bank? The answer is to benchmark off the best.
Awwwards.com is a website that awards the world's best designed website each day. You can search by category to see what are considered to be world-class design in your field of business.
Once you've found an awarded site that is most relevant to your business, you want to set it as the standard of design that you want to achieve. From here, you can look to outsourcing the design work or improve the design of your website yourself.
Once you've got enough money in the bank, hire a professional designer to make your website the industry benchmark in design.
9) Content that has been proofed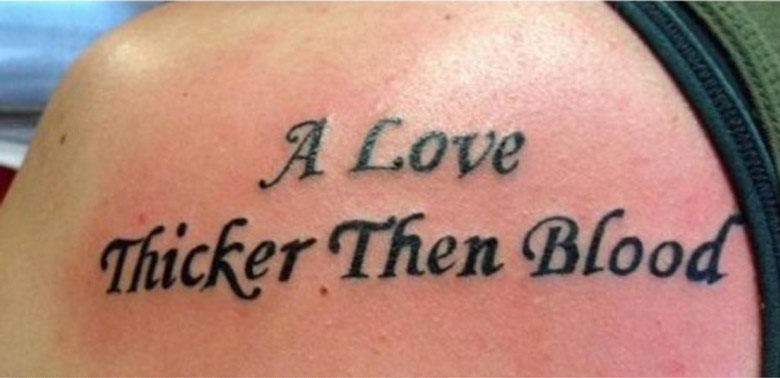 It amazes me just how many website owners fail to check for basic spelling and grammar mistakes of their site's content.
Having typos on your WordPress website is like having a crap website design. It is a quick and easy way to torpedo your trust and credibility with your potential customers.
The best way to ensure your content is reading right is to share your site around with your colleagues. Ask them to read over it and to check that it reads/sounds/flows right.
If you don't have anyone to send it to, or if you're wanting to outsource the entire job, then you can get your website & copy proofed on Fiverr for a small fee.
10) A blog producing quality content
Having an active blog producing consistent high-quality content is one of the most effective way to build and maintain lasting trust with your audience. However, if a prospective customer lands on your blog and sees that it hasn't been updated in half a year, that sets a pretty negative impression in the viewer's mind.
If you don't have the capacity, time or resources to maintain an active blog for your business, then you are better off not having one at all.
Any marketing source out there will tell you that you need to be producing consistent high-quality content if you want to succeed in content marketing. However, few will tell you how.
One of the most effective tools that I've recently implemented into Web3's content marketing strategy is a simple content idea validator. This calculator is based off the principles covered in WP Curve's Content Strategy Guide.
Each content idea that we have, we validate it against the 9 points that every piece of content needs to rate highly to be considered as a high quality piece of content. Those 9 points are:
Does the title make you want to read it?
How useful is the content?
Has this topic been done to death?
How much value will our audience get from it?
Will our audience be able to take away key learning points?
How entertaining is it?
How relevant will it be in a few years time?
How well can the topic be incentivised to share?
How well can the content be repurposed?
We rate the title of our content marketing topic on a scale of 1-10 across each of those 9 points. If the total tally across those 9 points is less than 63 (which is 70% of the top possible score of 90), we will either scrap the idea or rethink it.
With 2015 just on the horizon, now is the perfect time to plan & validate your content ideas so you can hit the ground running with a roadmap of high-quality content. Get your free template of our Content Idea Validator below:
Key Action Items
Use testimonials that focus on the unique selling points of your product/service and place them throughout your WordPress website.
Use logos of well-known awards and recognitions that you've achieved on your WordPress website's homepage.
Use logos of well-known publications that you've been featured in on your homepage.
If you have large enough database, use that number as a trust-building fact on your WordPress website.
Place trust-building facts about business on your WordPress website.
If you have a large enough social following, place social counters on your WordPress website to create social proof.
If you're handing money over your site, use trust seals.
Check out other world-class designs from your industry and aim to achieve a similar level of design quality on your own WordPress website.
Make sure your content has been proofed. If you don't want to do it yourself, outsource it and pay someone to do it for you.
Download our Content Marketing Idea validator template, and validate your content ideas before you start producing them.
Further Resources: