Would you like to learn how consumers are discovering law firms in Google search and what consumer trends are driving behaviours that are leading to sales online?
Having answers to questions such as: is my audience online? are they searching for what I do? are they searching for what my firm does? is critical regardless of which industry you are in and even which field of law that you are in.
Fortunately, in this day and age, we can use tools such as Google Trends to identify online search demand and trends.
For example, if we look at local search phrases such us, 'Lawyers Near Me' or if we look at more specific areas of law such as 'Family lawyers near me' or 'Criminal lawyers near me', we can see through the search data that people are looking to find providers in their location. This is something that allows us to take advantage of strategies like local-based optimisation and local SEO (Search Engine Optimisation), which are applicable strategies for the majority of law firms in Australia.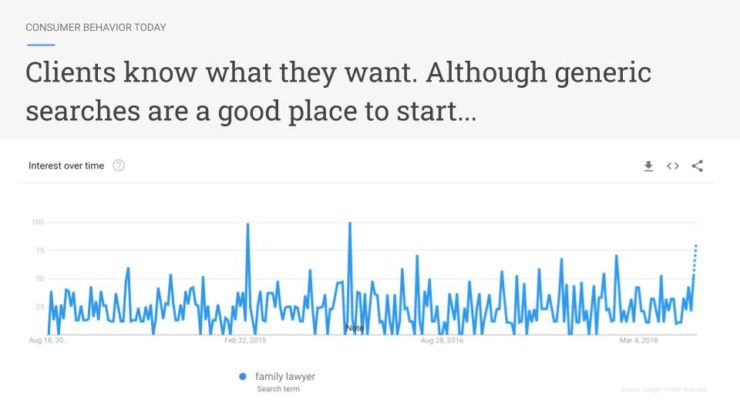 Understanding search demand for the legal industry
We can use tools such as SEMrush to give us keyword level data of how many searches are happening per month for specific keyword phrases in Google. For example, for the phrase 'personal injury lawyers', there are approximately 1,900 searches happening every month in Australia.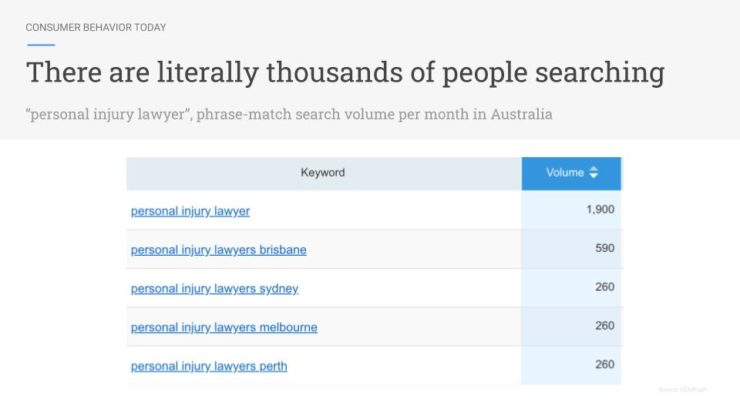 SEMrush also provides us with different keyword variations depending on the geographic location of the search.
Looking at the data, we can see 'Family Lawyers' themed search volume by city such as Melbourne, Sydney, Brisbane, Perth and Adelaide etc.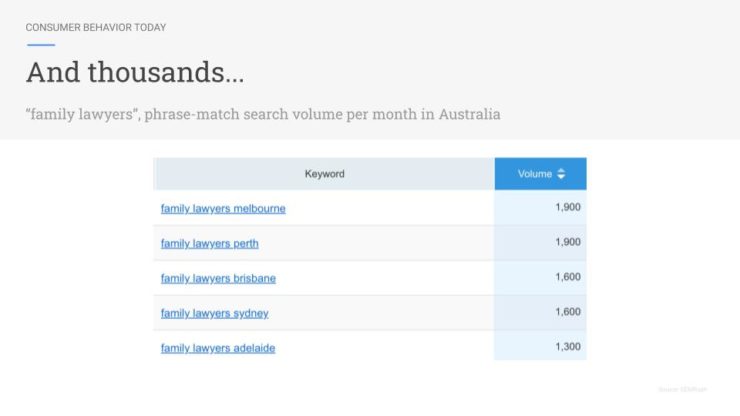 The only exception we have encountered in the law space when helping firms grow with Google is when dealing with specific niche areas that are not known from the general consumer. In this scenario, consumers would not be aware of that specific niche area of law therefore they would not be actively searching for it. This is typically an edge-case scenario however that does not apply to the majority of legal practitioners in Australia.
Consumers are better informed now more than ever
Everyone is connected 24/7, this means that your clients are more informed and they are more purposeful and prepared to make better-informed decisions than ever before.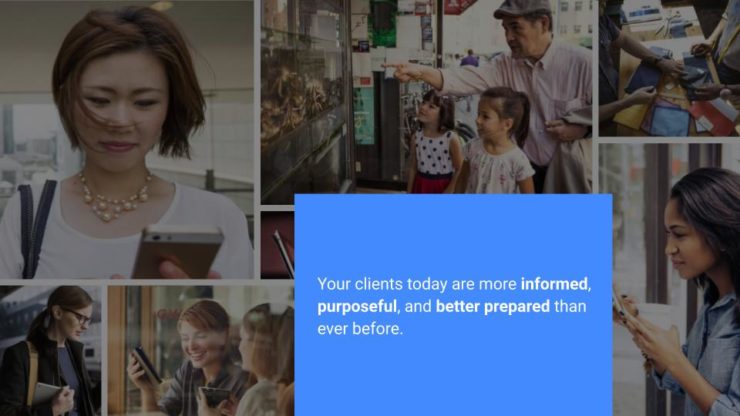 Having your audience constantly accessing the web uncovers trends that are also driving consumer behaviour today. Two of the biggest trends are: discoverability is crucial if you want to win the sale and generalised offers are meaningless.
Having a contact form on your website, getting down on one knee and praying, hoping that someone is going to come on Google and fill it out is not a strategy at all.
Statistics show that consumers are becoming loyal to the brands that meet their immediate needs. One out of ten smartphone searchers are certain that they are going to go over a company before they start searching which means that 90% of searchers do not have brand loyalty.
Not knowing which provider they are going to go with gives you a great opportunity to win the business if you can be discovered through Google. If you are not visible and there is no chance that you are going to be found, you won't be able to use Google as a stream to acquire new business and new clients.
Furthermore, every two out of three smartphones users agree that when they are searching on their phones, they are looking at the most relevant offer to solve their immediate problem, regardless of the company.
Online personalisation & offer relevancy drives sales
Today's consumers expect personalisation and relevancy, this is why nine out of ten consumers would buy from a company that best predict their search intent and suggests highly relevant solutions.
Search intent is a really important part to get right and the area that I see most agencies working with law firms getting wrong. We will expand on search intent further on the next part of our law fir marketing series.
Understanding the consumer intent, providing a relevant offer and targeting the right keyword phrases are crucial strategies so that when users are searching, they can be presented with an offer that is relevant to their situation and needs.
If you are interested in learning how to grow your law firm through Google Search Engine Marketing and how to get more clients on board please reach out to us or feel free to leave a comment below.