Website conversion rate optimisation is daunting to many people. If you ask any website conversion rate optimisation guru how to improve your website conversion rate, you'll be met with a barrage of jargon, scientific analogies and numbers that probably make no sense to you.
Don't get me wrong – conversion rate optimisation is arguably the most important thing you could invest time and resources towards improving your website's ability to grow your business.
However, conversion rate optimisation doesn't have to be impossible for business owners to understand if you know where to start, what you should do to improve your website's conversions and why.
Have Google Analytics Correctly Installed
Before we can start the conversion on improving your website's conversions, it's fundamentally important that your website is setup to track and measure how people are getting to it, and what they are doing when they get there.
As the old accounting saying goes, "If you can't measure it, you can't manage it" – the same goes for your website and its conversions.
There's a thousand and one ways you can measure this data, however the undisputed standard in website analytics is Google Analytics.
If your website has been set up by a web designer that is worth their 2 cents, then Google Analytics should be already installed.
If you don't know if your website has Google Analytics installed or not, here's the quick and easy way to find out.
Go to your website, and click the green 'BW' button in your browser bar
Scroll through all the content that is displayed in the window. If you website has Google Analytics, it will show up. If it doesn't, follow this guide to set it up.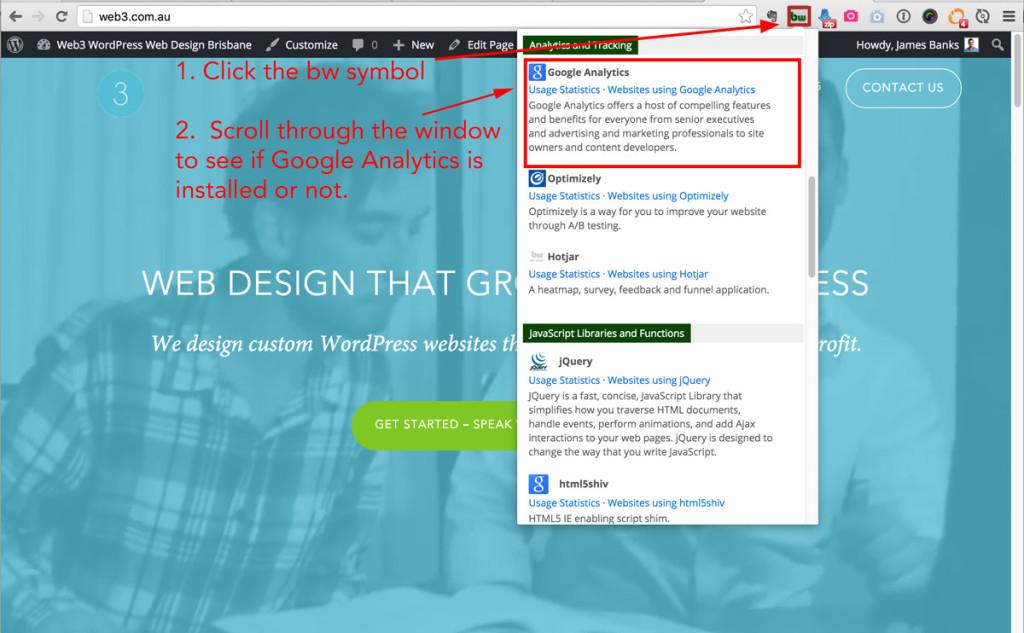 TIP: If you're running a WordPress website, we recommend installing Google Analytics to your website via the Google Analytics by Yoast plugin. Installation is relatively straightforward.
Use Google Analytics to Make Data-Driven Decisions on Improving Your Conversions
A trap that I see all too many people fall into is making assumptions on how they can improve their website. Let's get one thing clear before we move on:
Your assumptions and opinions about your website do not matter.
In this day and age of content overload we live in, it's all too easy to read a case study or download a template that promises for an "XYZ" increase in your website conversion rate, which leads you to think "Hey! I can achieve the same results on my website if I do the same thing".
The reality is, there are too many variables, too many different scenarios that influence a website's conversion rate.
The only practical way that you can continually improve your website is through consistent testing and measuring of ideas grounded by a solid understanding of your website's data, and not your own assumption.
Google Analytics is one of the core tools that will help you stop making assumptions about your website, and allow you to make better quality decisions towards improving your conversions.
So what are the top three things that you can do today to improve your website's conversions?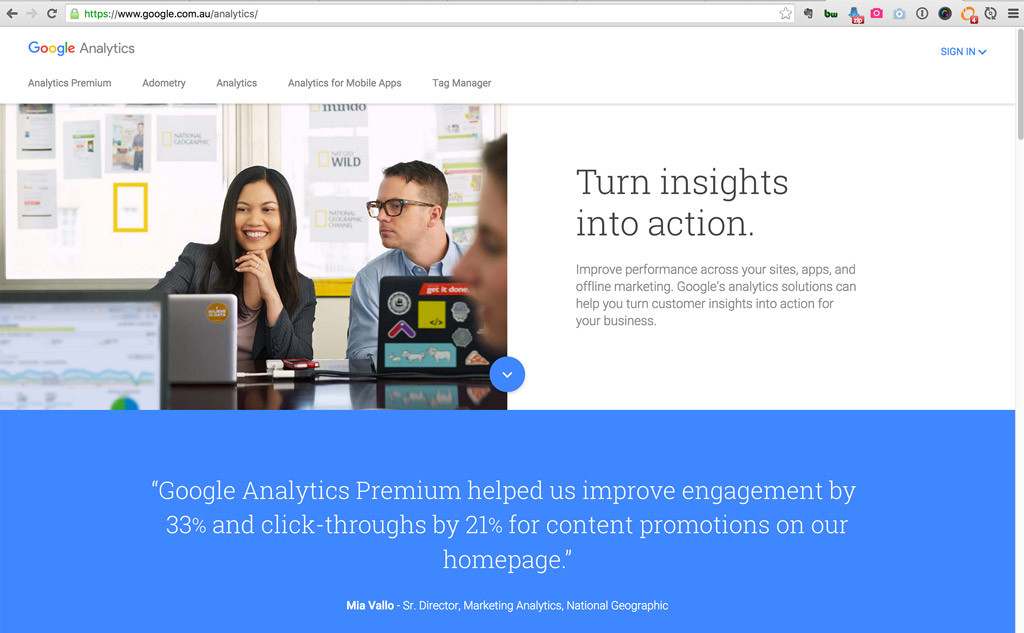 Step One: Audit Your Website With Google Analytics
One of the biggest killers of conversions is website bugs. Think about it – if your visitors cannot get to your website's point of conversions because of technical problems and issues preventing them to do so, you can almost guarantee there will be a zero change of conversion.
So how can you ensure your website is bug free? In my honest opinion, you cannot guarantee that a website can be 100% bug free across every single internet equipped device and browser in existence. There's simply too many variables at play.
However, you can fix this problem by approaching it strategically using the data from our good ol' friend Google Analytics.
Here's how:
From your Google Analytics Dashboard, go to Technology -> Browser & OS
With the Browser Tab open, you'll be able to see what web browsers your visitors are using to access your website, segmented by percentages.
Make note of what browsers that the majority of your website's traffic is coming from. If the majority of your website's traffic is coming from Google Chrome, it's obvious that you need to make sure your website functions flawlessly on Chrome above all other browsers.
Click on the titles of the browsers to get a detailed breakdown of what browser version your visitors are using. Thanks to Chrome, Safari and Firefox having inbuilt auto update features, your don't have to worry too much about making sure your website works in older browser versions. However, it is best to check if this is true for your website by looking into your data – the results may be different.
Always look into what versions of Internet Explorer your visitors are using to update your website. Internet Explorer is still a large traffic source for websites, particular those catered towards an older market. Additionally, if there's any browser that your website will not work in, it is likely be an older version of Internet Explorer.
Click on the operating system tab, and drill down into the different operating systems that your visitors are accessing your website with. As with browsers, if the mass majority of your traffic is coming from one Operating System (OS) type, make it the priority in your cross-device testing efforts to ensure no website conversion rate killing bugs are present.
Click on the Screen Resolution tab, and make note of what screen resolutions your viewers are accessing your website from. Your website may look beautiful on your 27" iMac, but if over half your traffic is coming from a 19" monitor, you want to make sure it looks just as good and functions at that screen size.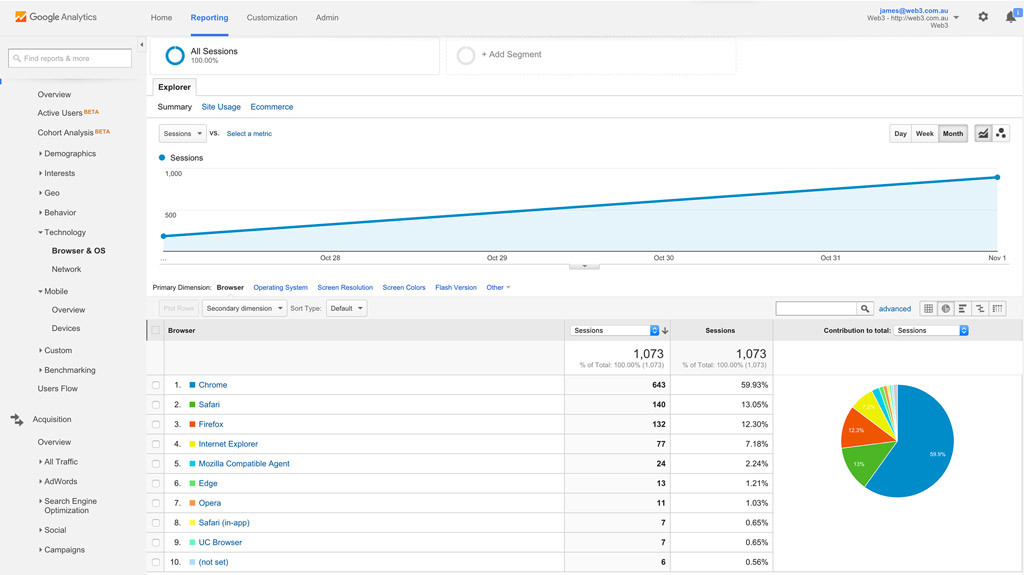 Step Two: Make Testing Easier with BrowserStack
Now that you understand what browsers, devices and screen resolutions your website visitors are using to engage with your website, it's time to make sure your website functions properly.
If you are working with a web developer or agency, make sure their testing procedures match your findings in Google Analytics.
It never hurts to check your own website yourself. However, unless you own a computer store, it's near impossible to test your website on all variations that your visitors are accessing your website from.
Fortunately, website testing tools such as browserstack.com make this process a lot easier.
Here's how to test your website using BrowserStack:
Sign up to your free trial of BrowserStack here.
Once you've gotten to the testing interface, start testing your website through different browser, Operating Systems and screen resolution combinations based on your findings from Google Analytics.
When testing your website. Click on every link, button, popup & interactive element to see if it functions correctly.
Step Three: Have a Process to Track Your Bugs
If you've never tested your website, or your haven't tested it in a long time, you'll undoubtedly uncover many bugs and issues.
It's important that you effectively track these bugs, so you can report them to your web developer.
To make it easier for your web developer to identify the issue and put in place a fix, we recommend using our Cross-Browser & Device Testing template Spreadsheet as you go along and test your website. This way, it's easy for you to note down any conversion-killing bugs, and keep track of them until they are fixed.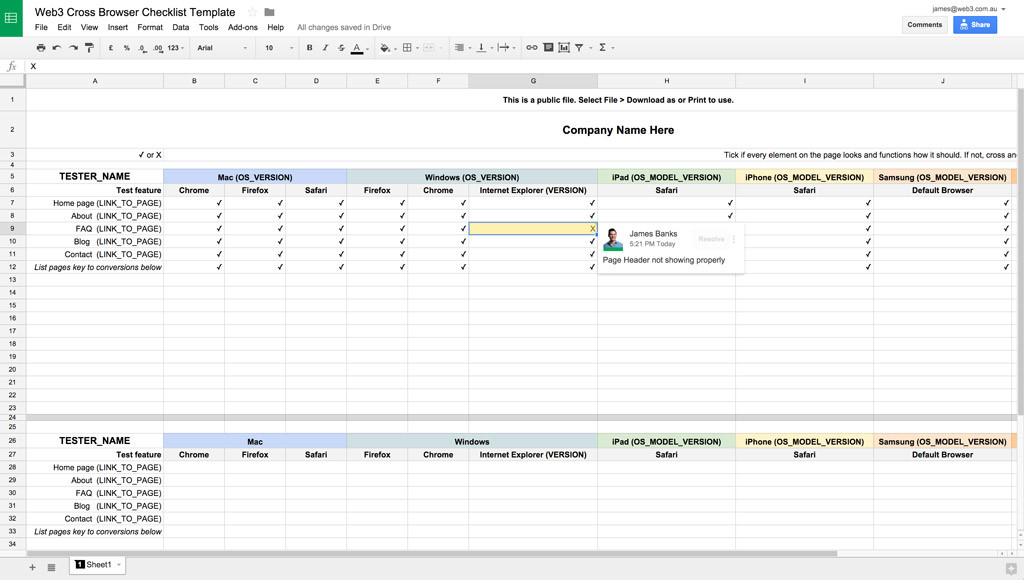 If you do come across any issues on your website that are killing your website conversion rate, then we're here to help you. Drop us a line here, and we'll get connected.