In more than eight-years working in the web design industry, the most common complaint I hear from business owners is their web designer sucks.
When I dig a little deeper as to why they suck, the typical responses are:
They don't understand my business
They created something that isn't aligned to what my business actually does
Their design doesn't fit my audience
I can't even get in contact with them to fix all these problems
They are just too painful for me to work with
There are hundreds of things that could have happened over time for these responses to become a reality.
However, the bottom line is there are too many crappy web designers and WordPress web design companies out there who consistently get these kinds of complaints from their customers.
If you're looking for a great web designer to work with on your next project, don't let this be you.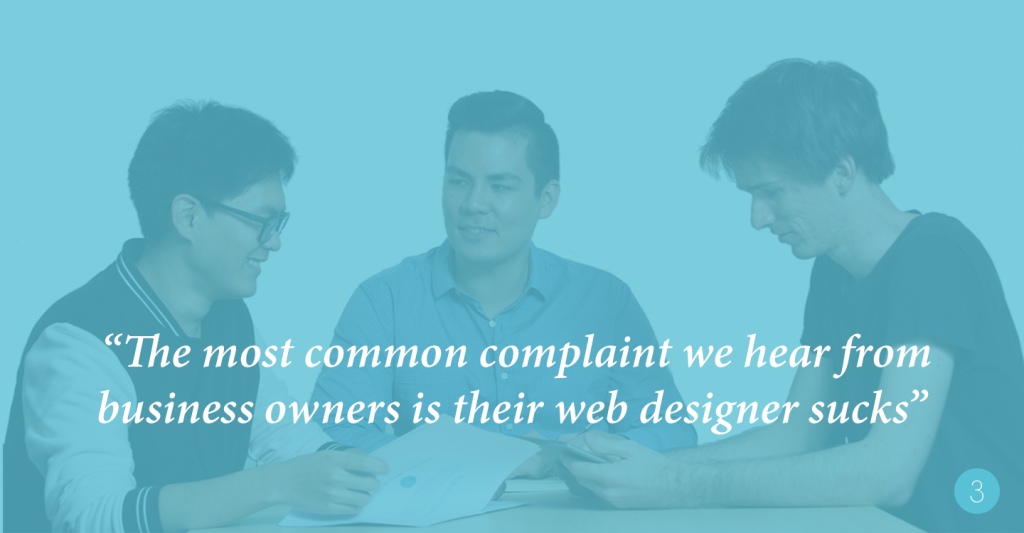 The good news is this does not have to happen at all if you ask the right questions to make the right decisions when searching for the right web designer for you and your business.
Myself and my business partner, Joseph, have described the four key steps in detail in our very first episode of the Web3 Podcast, which you can listen to below.
Podcast Transcript
This is the Web3 Podcast about attracting, engaging, and converting more customers on your website.
Hello and welcome to the first episode of Attract, Engage, Convert. The Web3 Podcast.
This podcast is designed for entrepreneurs with early stage businesses or even established businesses who are wanting to create a professional online presence and really to transform your website into a platform to grow your business.
So here's the problem, most people that have never had a website built or have worked with a web designer to have website created before have got any idea what is or how to find out about choosing the right web designer for your project.
Also, for people that have worked with web designers before and have had bad experiences and have turned them off, working with web designers, then this episode really will help you understand about what are the things, what are the steps you needed to do to be able to choose a good web designer to see the goals of your project reached and fulfilled.
On the flip-side, you maybe wanting a web designer that creates a professional, beautiful website for your company that drives profit to your business – a web designer that is reliable, that you can trust and that is your digital adviser for all things online.
You want a trusted digital adviser who is willing to work with you to adapt to your business as it grows and evolves online.
So the very first thing you need to know before you even start jumping into Google or working through your contact list is you really got to get clear on what is it that you actually want.
Do you even actually need a website?
What is it that you want to do?
Do you want to get more leads, do you want to make your website look more professional perhaps but make it load faster?
If you're really looking and you know that you need a comprehensive overhaul. Let's say your website is three years, five years old. It's dated, it's not working, it's clunky. It's broken, you've got no one to support it, no one to maintain it, and you really need to work with someone to fix that problem, then, getting a website or working with a website designer to build is is of course is the right way to go about and that's what we're going to focus this episode on.
Firstly, you want to really get clear on what are the goals.
Are you looking to increase your leads? Are you looking to increase sales? Are you looking to increase your conversion rate on your website? Even if you are just roughly writing it down for now, just getting something down on paper to work with and speak to with the people that you contacted, the web designers you contact is important.
Secondly, you need to get clear on your definition of what is a successful outcome. Is it being being able to automate a part of your business that's taking a lot of your time? Is it to be able to achieve a certain amount of leads per month or to increase your conversion rate by a certain amount from what it currently is.
When you know you definition of success is and you share with the people that you want to work with to design your website, it makes everyone's life much easier. Finally, you need to know on how much you're prepared to spend.
We're going to do an episode entirely on pricing of website design services and web services in general soon. But it's important for you to understand what is it that you are willing to invest in constructing and building and designing a new website.
And if you know that you are looking to or if you need marketing services along with that, how much are you willing to pay per month for those marketing services? Even again, if it's just a general idea having some basic questions answered up front will really help you to understand who's going to be the right company to work with.
So the next thing you want to do is to do some research on the web designers in your area. When you identify the companies that you think can help you, you want to do some research to make sure they are the right fit for you.
Ask for or find on their websites some examples of previous work that they have done. You can view web3s latest work here. And another thing you want to do is ask people in your network, see if any people that you know, know of any good web designers that can help you achieve your goal.
When you have made contact with the web design company, ask them if they can provide some clients that you can talk to to see how they went in the experience and how their website is tracking now.
One final thing that I noticed a lot of people go wrong with, is when they ask for referrals or they ask people in their network who they know that can build websites.
Or is a website designer, and you hear someone that refers back what you are going to differentiate there's two things. There's referrers or people that refer companies because they know them because they're friends or they know them because they just happen to pop – up on their facebook feed or LinkedIn network that they're a web designer. View Web3's Facebook and Web3's LinkedIn.
You want to make sure that the actual person referring you someone has gone through and engaged and bought a service or worked and had a website built by that referee. Make sure that what they – the person that they are actually referring to they had experienced their service and have experienced what they do. And it's been a positive one overall.
Something really important to keep in mind.
So, once you've got your research, you know what you want to do, and whom you want to work with, you want to then get in touch.
Pick up the phone, organise a meeting, organise a time to come together with the web design company. You want to be able to ask them questions and really learn about their process. Every web design company, web designer, digital agency, has their own unique process on how they go about and build websites and do things.
So, you want to ask them, "How long does it take to create a site?" And obviously that's going to require a definition of scope. And being able to work through the process and understanding what is it that you need and then best recommending what's going to best achieve the goals that you are looking for is part of what the web designer should be doing with you.
From there you should be able to have an idea of how long it will take, what are the steps, what are the processes required to complete the project. And also, something that's really is important is understanding about what you need to do during the process, during the project in order to achieve a successful result.
A lot of web designers won't provide copy-writing services to their clients. So, if that is the case, then we need to make sure that you have the time willing to invest into the project to achieve a good quality result and you are not committing to something that you can't follow through with your own schedule and your own time.
A good thing you want to keep in mind is once a website is launched, who is going to support it? Is it you? Is it the website company? Or is it a third – party? Because once a website is built, particularly a Word Press site, it requires maintenance, it requires updates.
It's like running a car. You need to change its oil every so long or it's going to break down. So who's going to be doing that? And it's important that you work with a company that can provide support or has a system of structure around supporting built and launched website.
And finally, what's really important is that you need to know who's going to be your person of contract throughout the project.
Is it the person that you've been dealing with and speaking with to the company to that point? Are they just going to send you off to some overseas mob that you can't even pick up the phone and call them?
You really want to get clear on who's going to be your point of contact throughout the project and get to know that person if they are aligned with your goals, aligned with your vision. Whoever is your point of contact in the project, is going to be the person driving the direction, the vision, the strategy of your website.
And you want to make sure that they understand you, your business, your goals, your needs, your wants and your desires.
You don't want to just work with a web designer or an agency that's just going to say yes to every single thing you say.
I think it's really important that when you are looking to partner up with a company for a long – term someone that you can trust, someone that can be your go – to person of advice. That they are actually advising you away from the bad decisions and towards the things that are going to help you achieve your goals and objectives.
So, it's really important that a company shows you, demonstrates that to you before you sign any contracts or sign off and start any projects with them.
Once you have chosen the web designer that you will be working with, you need to make sure that their process lines with your wants and needs.
Does the company's process meet your goals? Is the company listening to your goals and objectives? And have they provided a solution to achieve the goals and objectives that you want to achieve?
So, in summary
The four things that you need to know to be able to choose a great web designer for your project.
So number one, define what it is that you actually want. What are your goals? Do you actually need a website? What is the definition of success in your own words and how much are you prepared to spend, what budget are you willing to set?
Number two, do your research. Ask for examples of work. Ask people in your network who they've worked with and always when someone refers you something, check the referral source.
Has the person that's referred you the business actually been a customer of that business or do they just know them as a friend?
Number three, speak to the company and learn their process. So, make sure that you understand what their process is before committing and be able to understand if their process is aligned with the goals that you are wanting to achieve.
And finally, make the decision. If the company checks out, they're good people, they got a good process and they're willing to advise you and challenge you on things that can be done better then at that stage, it's for you to make the decision if this is the right company for you.
Ultimately, it all boils down to trust and how you feel but hopefully, these steps have been useful and will help you in embarking and choosing a website designer or a website company for your next website project.
And jump on to the web3 blog where we've actually put down these steps into a checklist that you can download, print out, or take a digital copy of.
And when you're working through and choosing a website design company, you can use it as a guide to follow you through.
To make sure that you end up working with an awesome company, an awesome group of web designers that are there for you, your business, and for the long – term.
So, what's the website to get to that James?
To go to that, its web3.com.au/wordpress-blog. Well throw up the direct link to the blog post into the show notes of this Podcast and into the show's description. Hope you enjoyed it.
Are you satisfied with your current web designer?
I'd love to hear your experience, both good & bad, by sharing a comment below.