Content on your site will do a lot more than simply tell the visitors to your site what that page is about, or about certain products. In fact, having good content on your site is one of SEO's best practices and could spell the difference between ranking highly on search engines like Google, or being on pages back!
A few years ago, the best way to rank highly on Google was to simply stuff your page content with as many keywords as possible, even if this may mean that your content makes hardly any sense. Thankfully, this is no longer the case.
Businesses are now using other methods to optimise their sites for SEO, taking into consideration, of course, the fact that they actually want their visitors to come back. This is one of the main reasons that content is so important. It is the content on the website that is actually the factor that is attracting the visitors, sometimes more so than the product or service that the company is trying to sell.
If as a business you are unable to produce the high-quality content that you need yourself, then you may need to hire an external SEO agency like web3 to do the job for you. After all, the best SEO companies are experts that do this day in and day out. The return on investment is well worth the spend when done right.
There are some very important things to take notice of when it comes to writing content. One of the main things to remember is that you want your content to be of the very highest quality possible, therefore free of any annoying typos, correct title cases, spelling or grammar mistakes. This can instantly turn someone away from a site and make a visitor feel as though the company as a whole is not great quality, and makes the question whether the company knows what they are talking about.
Additionally, the content should be rich in appropriate keywords, while also being engaging and informative. Telling the reader what they need to know about the company and the product that they are trying to sell.
In addition to quality, quantity is also important. This doesn't mean that the site should be jam-packed with as much content as possible, but rather it should be updated regularly with fresh content.
If the content on a site stays the same every time a visitor enters the site, then eventually there will be no reason for them to come back. Not only that but simply the fact of having fresh and engaging content regularly can help to increase your company's ranking on a search engines.
The opinion differs as to how often a site's content should be updated, and it greatly depends on the type of site it is. The majority would agree however that about once a week should be enough.
A blog, however, should be updated more often, and consistently. Adding ten posts at once after a week of being quiet is not going to help the situation.
The top SEO questions we often get asked
Here are 16 of the top SEO questions that we most often get asked. Note: scroll down to the bottom to download the infographic combined in one image.
1. What is SEO?
Search engine Optimisation (often abbreviated to SEO) is the process of getting traffic from the "free", "organic", "editorial" or "natural" search results on search engines in order to affect the visibility of a website or a web page.
When you search for something in Google search, search results are listed. Of all the search results, Googles top 5 results get 75% of the clicks. This means that every other page listed in the search results after the first 5 results get the remaining 25% of clicks.
This is why SEO is so important because if you are not in the first 5 positions, then you are almost entirely invisible to your customers.
The SEO industry is worth $65 billion dollars annually. Companies pay lots of money to be at the top of Google.
There is no way around it getting your website at the top. Unless of course you choose to go down the paid google ads route. This will get you at the top of Google search results but will cost you every time someone clicks on your ad.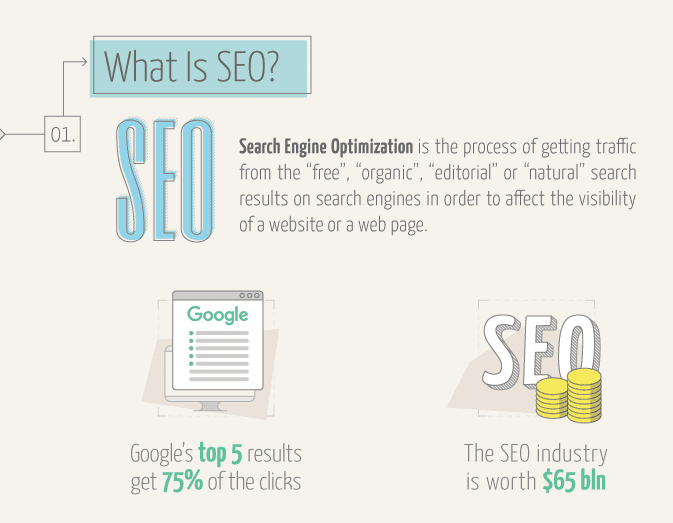 2. What is the difference between Off Page and On Page Optimisation?
Both are part of the total search engine optimisation package but are two different things. Essentially one focuses on optimisations on the website whereas the other focuses on ways to optimise off the website.
On Page optimisation is internal and needs constant revision of own website in order to enhance traffic. This is all the changes you make on your website.
Off Page SEO is external and relies on other web pages to improve a website or blog and its optimisation deals with link building factors. The main off-page SEO task deals with building links to pages off your website. Note that you don't always link to just the homepage. You should create backlinks to all of the pages that you are wanting to rank for.
Meta descriptions (discussed further down) are one of the top on page SEO ranking factors. 99% of the top 10 websites use meta descriptions as part of their optimisation strategy.
Another ranking measure that has become more important in recent times is making sure your website loads as fast as it can. 47% of target audiences expect websites to load in under 2 seconds.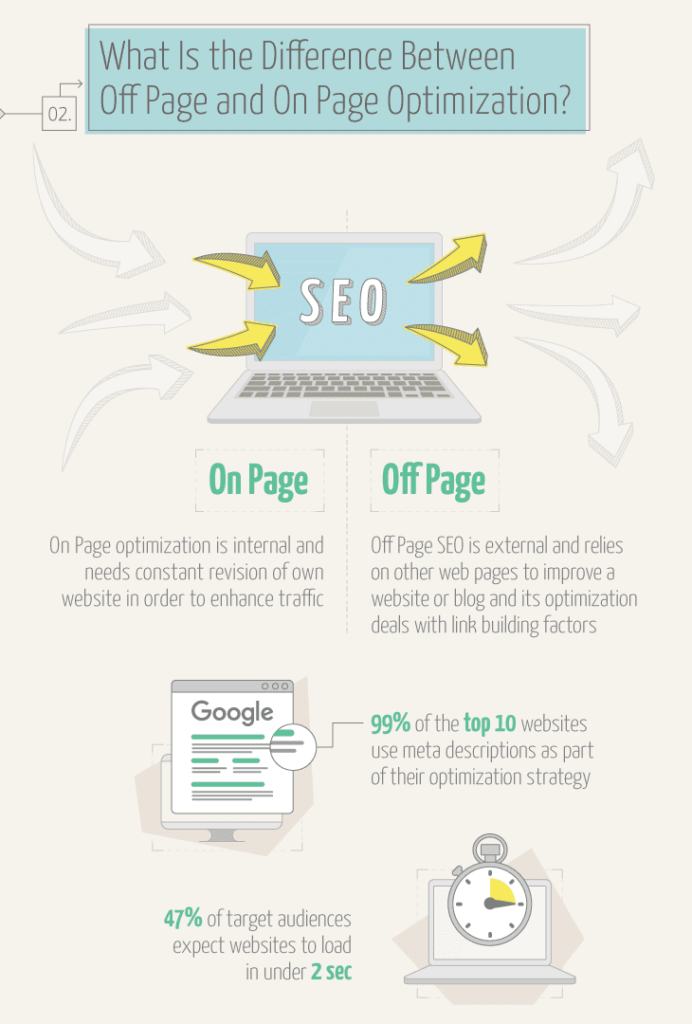 3. How long will it take to get rankings?
It is normally a long term effort but with great content, multiple weekly blog posts and regular link building, it can take between 2 to 6 months. For a more substantial result even up to 12 months.
Out of 20,000 researched URL's from pages that were published in 2016, the average time that it takes a page to just reach their top position is 3.39 months.
Only 5.7% of all newly published pages will get to Google top 10 within a year.
What we recommend to get your website ranking in Google faster:
Create fresh content. Its important to be creating content on a consistent basis so you gain a following and links are continuing
Check the recent Google updates. Google continually updates their Google search algorithm. Be aware of any changes that they might have announced that could potentially affect your rankings.
Do keyword research. Keywords are what are used to help determine what pages are displayed for what search term. Make sure you are using the right keywords for the right target audience.
Check your website speed. Speed is so important to get right. We know a thing or two about how to improve your website speed. Check out the book.
Build backlinks the right way and start as soon as possible (more on backlinks below). Ideally you should be building backlinks as soon as you publish your page. It is sometimes recommended to give the page time to get index but we recommend building backlinks asap.
Know your position on PageRank, PageRank is a metric in the Google algorithm used to rank websites. It is less used these days as real world metrics are what is used instead like making great content and a good user experience.
Invest in link building on the long run. Link building is a long process that can take years to master. It is important that your backlinks are made for the longterm rather than more "black hat" methods on trying to game the system fast right away.
Track your organic traffic. Use a tool like Google Analytics or Google search console to see how your pages are ranking for what query terms.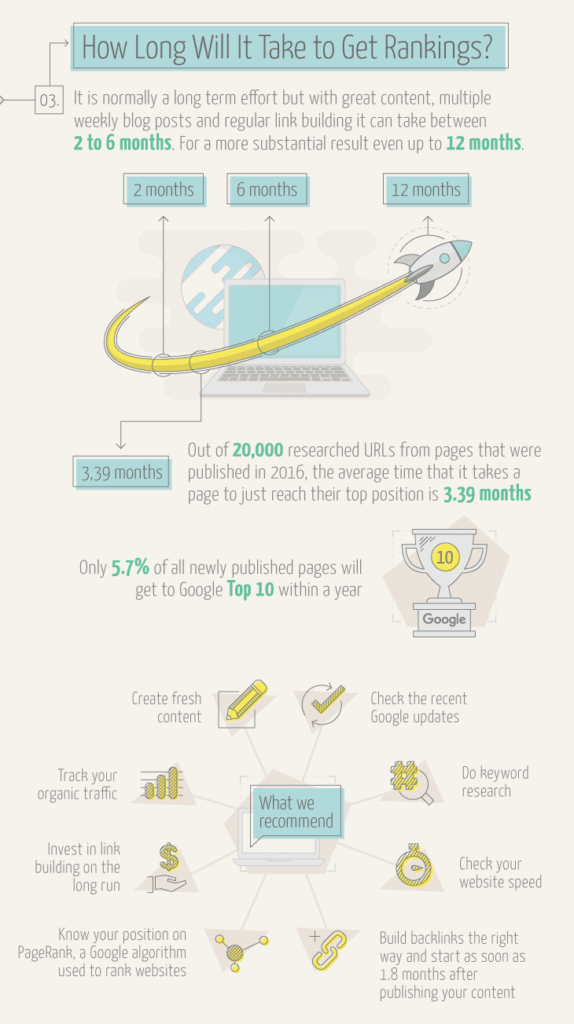 4. What is a Backlink
A backlink is an inbound link to a webpage. In other words, it is a link on someone elses website pointing to your web page. The more links you have on websites that are considered high quality, the better quality backlink it will be resulting in a higher website rank.
A page with a lot of quality backlinks tends to rank higher on major search engines such as Google. This is because it is an indication to search engines that the page that has all the links must be high quality.
41% of corporate marketers say the top challenges in SEO are link building followed by keyword research with 39%. Building backlinks is a very time consuming task and a link is often earned from the website owner.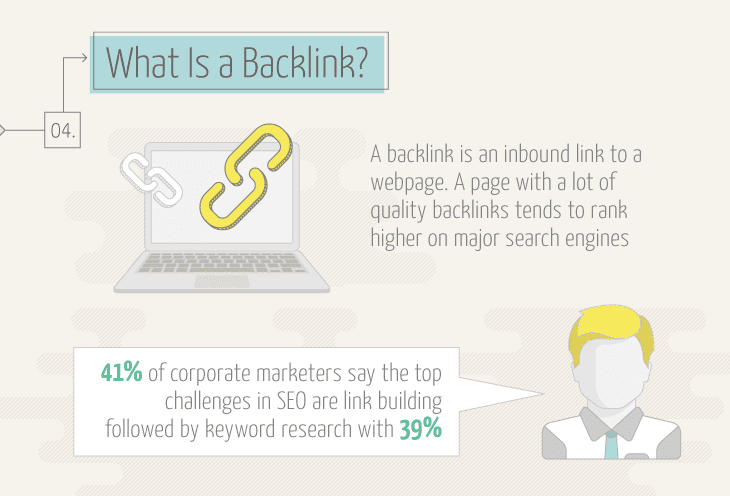 5. Can I buy links?
Generally, buying backlinks is not a good idea as it can have negative effects on your search rankings. It is however an easy way to get higher in the search results quicker than traditional ways such as earning links. Buying backlinks is often the quickest way to obtain them, and it is a popular practice since it works perfectly most of the time.
The downside is that any website found to be engaging in the practice is liable to be penalised by Google since it openly states that buying backlinks to improve your rankings breaches their guidelines.
Backlinks can be bought by other companies or listing directories. The average cost of buying a backlink according to Ahrefs is $352.93.
When buying backlinks it is a very good idea to ruthlessly pick only the top sites you want to put your backlink on. This is to ensure that Google wont clearly see that your backlinks are not all paid backlinks. Its a very grey area and if you can get positive results from not buying links then that is your best option.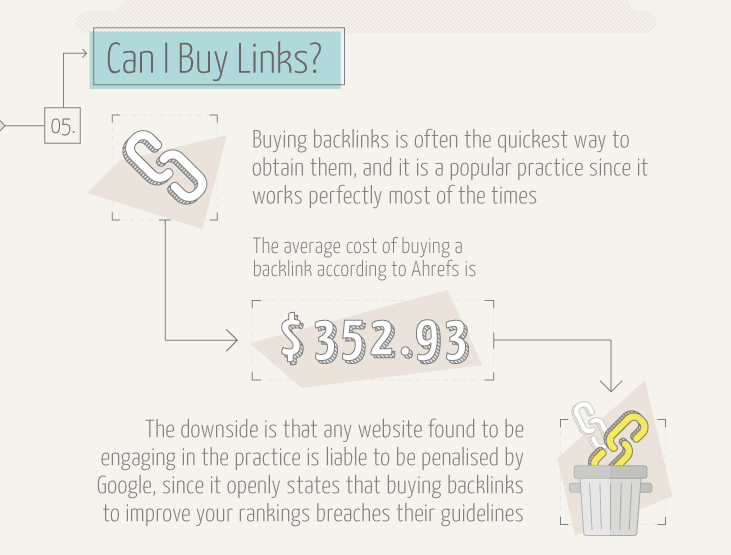 6. What is Organic Traffic?
Organic traffic refers to traffic that comes to a website as a result of unpaid search results. i.e. you use Search Engine Optimisation Services to get to the top of results without paying for ads to put you there.
A quick way to increase your organic website traffic by up to 111% is if you update and republish old blog posts with new content and images. All you need to do is go through your blog and reread the posts that have been neglected. If they can be updated with current stats and more information then do so. Then update the post and reshare and market it.
If you do it right then your organic search results can be increased without a lot of new effort coming up with blog topics.
66% of marketers say growing their organic presence and improving SEO is their top inbound marketing priority. This is because organic search rankings will give you the best medium term ROI. When you are at the top organically, magic starts to happen.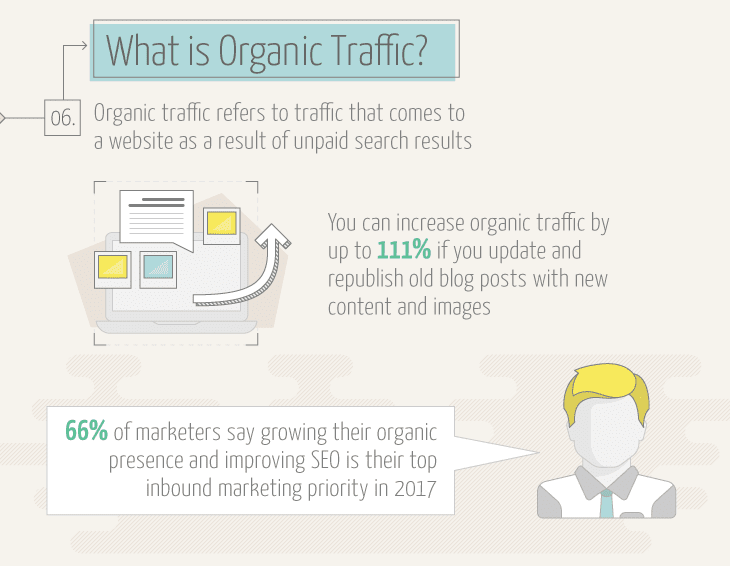 7. What is Black Hat SEO?
This type of SEO is normally detected and penalised by Google by either being banned or by dropping 10-100 positions in the search results for multiple keywords.
Black hat SEO represents the improper use of SEO techniques such as:
Paid links. When people pay money outright for links to get higher rankings (see 5. Can I buy links).
Spam Comments. Is done by site owners and it normally contains one liners or links. This is when you go onto another websites blog and comment on an article. This is considered spam. It is ok to contribute to that blogs conversation but if it is something along the lines of "Nice article. Heres my website https://web3.com.au" then that is spam and bad.
Duplicate Content. Appears on the internet in more than one place. Do not copy your article onto any other website and do not copy someone elses articles onto your website. This is duplicate content. If you need to reference one article on your website from another source then the better way to do this is to write a new article with different content and reference the other.
Article Spinning. Is rewriting content to sound different. You're not fooling anyone. Make it 100% unique and your own.
Cloaking. When the content presented to the user is different from the one presented to search engine crawlers. This is done in the code. Google has gotten smart enough to understand this.
Invisible Text. Is when a site owner uses white colour on a white background to hide links or keywords. Your websites usability is an important factor too. At the very least, make your websites text easy to consume by your readers.
Keyword Stuffing. Is when a site is loaded with keywords in order to get higher rankings. It is better to target one main keyword on a page and then write it naturally for your audience. If it doesn't sound natural for you then it probably will be marked as keyword stuffing by Google.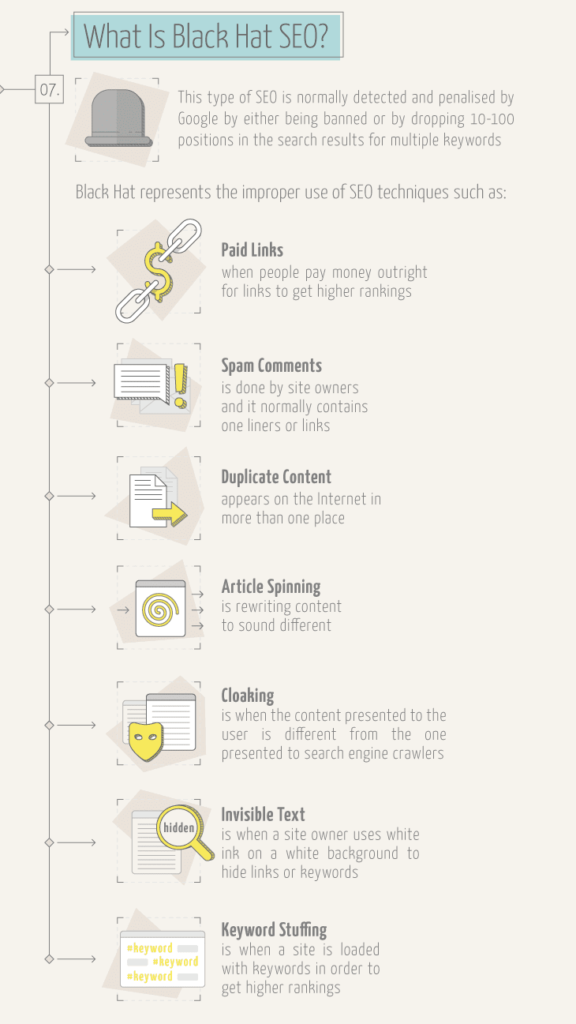 08. What is White Hat SEO
White Hat SEO is the best approach to SEO. Its what comes most naturally when creating pages and content on your website. There are not really any secret tricks to it. Its simply a matter of looking at your page and if it is helpful and straightforward from a third-party perspective then chances are it will be white-hat friendly.
Some of the top SEO strategies include:
Relevant Content. Writing about the one main topic and providing as much helpful and informative information as you can is considered great.
Title and Meta Data. Setting the pages title and meta descriptions so that they match the topic and content on the page is still a top SEO strategy. Google often ignores this information depending what the user is searching for but it cant hurt to keep it for when Google does need it.
Quality Backlinks. Earning backlinks from good quality websites will give you a much higher advantage than earning from dozens of low quality and spam websites.
Good Quality Images. Images provide appeal and help engage with the users on your site. Making sure they are big enough and good enough quality is the best bet.
Standards-compliant HTML. Websites are built with HTML and other web code technologies. There is right ways and wrong ways to code HTML. You can also get errors when the HTML is not coded 100% correctly. Making sure your website is coded correctly will ensure the best fighting chance that your website is white-hat SEO friendly. We have spent over a decade at Web3 on our web frameworks to ensure they are the most optimised for SEO. So all of the WordPress website designs we build are standards-compliant out of the box.
Effective Keyword Use. Again, just like Black-hat SEO, it is important to make sure the keywords are correct on the page. You don't want to stuff them with spam. Also each page that you add to your website should be targeting a unique keyword.
White hat SEO is important because 71% of businesses are creating more content than last year. If your website content is not white-hat optimised then you're wasting your time.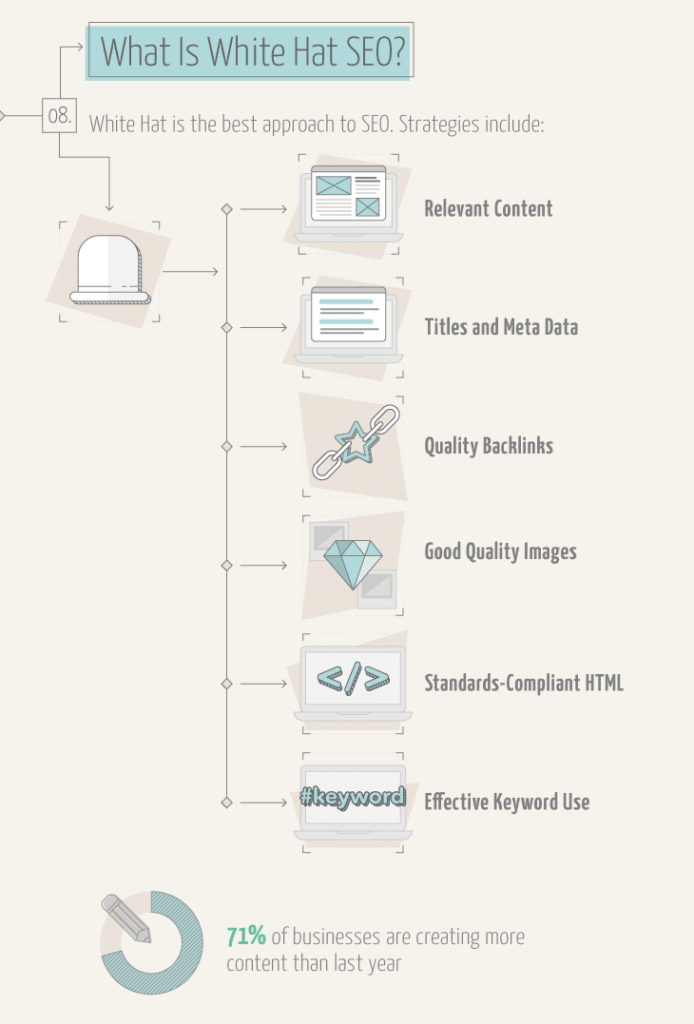 9. What is a Meta Tag?
A meta tag is a snippet of text in the html that describes the contents of a web page. The meta description tag tells the visitors what the web page is about. The meta tags are different to the likes of your page title and the content on your site.
Meta descriptions are not visible on your websites page. They are however, read by search engines and displayed in their search results.
You can use WordPress plugins such as Yoast SEO to add the meta tags to your page. The Yoast metabox sits at the bottom of each page and post and mimics the appearance of Google search results. When you enter the meta title and description, Yoast will recommend changes based on the target keyword and content already typed on the page.
Unique meta tags are an important aspect of search engine optimisation because they can help to manipulate who clicks on what pages. 43.2% of people click on a specific result based on the meta description alone.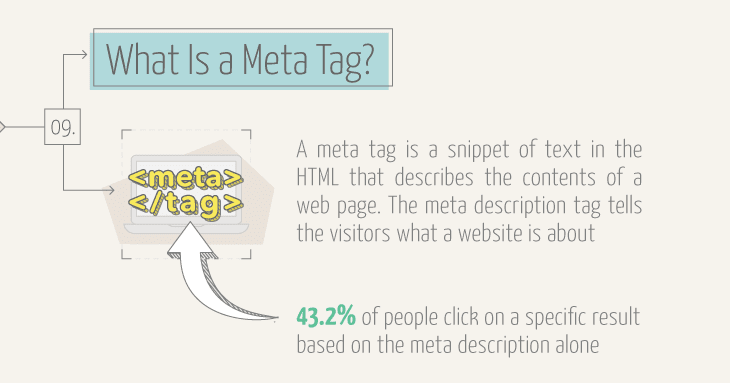 10. Is Content Important?
Absolutely! People search for things and the results returned come from the content on your website. If you do not have content of what the user is looking for then you will not be found at all by that person when they search.
Great content is what sets your website apart from the masses. You should always write up to date, unique content that is relevant to your target audience. In fact the average first page result on Google contains 1890 words. This can mean that the content is authoritative and in depth enough for people to find what they are looking for.
72% of marketers say the most effective SEO tactic is creating relevant content. Web3 has found that creating long-form in-depth content that aims to solve big problems tend to rank really well. That is half the reason why most of our blog posts are 2000+ words and focus on lots of specific niches.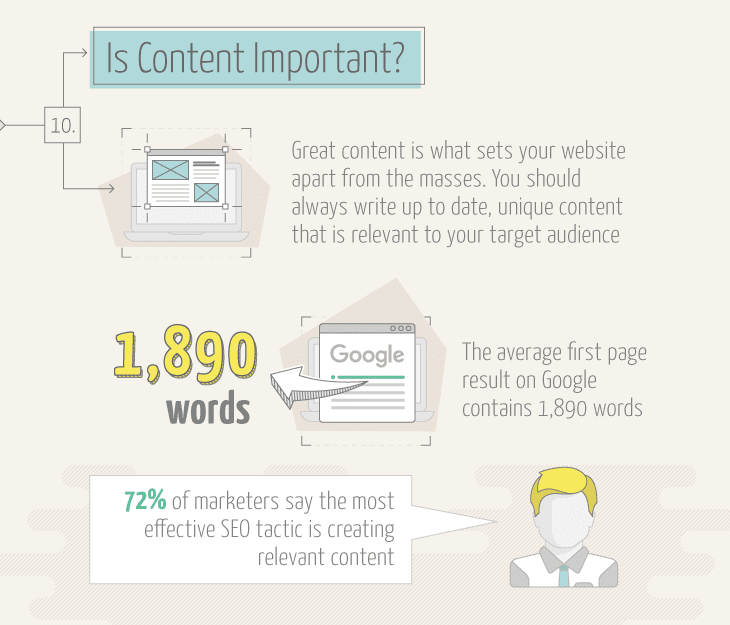 11. Do I need mobile SEO?
"Mobile First" is a concept where you start the design process with mobile considerations and constraints and then work your way up from there to tablets, laptops and PCs. We have been banging on about mobile first or "responsive design" for so long now. We even presented at WordCamp Australia (the largest WordPress conference) about mobile first design.
A benefit of going mobile first is that you can make your website load faster on the right devices first, which matters for Google Rankings.
More Google searches take place on mobile devices than on computers and with 62% of B2B marketers and 51% of B2C marketers having optimised their blogs for mobile in order to improve SEO, mobile SEO is definitely gaining momentum.
90% of internet users will access online content through their phones.
12. How do I find the right keywords?
Keywords are one of the ways Google determines what pages to display in their search results.
It's not about getting a lot of visitors to your website, but getting the right visitors and you can do that by finding the right keywords. There are a lot of tools to help with the search, the most popular being Googles keyword planner which provides results based on actual Google searches.
Another way to judge the value of the keyword is by making sure its relevant to your websites content. The keywords that you use should aim to be unique to that pages content. Your content should be made up of many different keywords all relevant to the one main keyword.
48% of people surveyed identified keyword or phrase research as one of the most effective SEO tactics. This is because you can determine what searchers are looking for and target your content around that.
50% of search queries that are made have at least 4 or more words. This is where the strategy of "long-tail" keywords come in. Long-tail keywords are keywords that are a little more niched down than the main keyword. e.g. instead of targeting "Search Engine Optimisation" You would target "Sydney Search Engine Optimisation Agency" as it provides more context and is more specific to searchers in that area.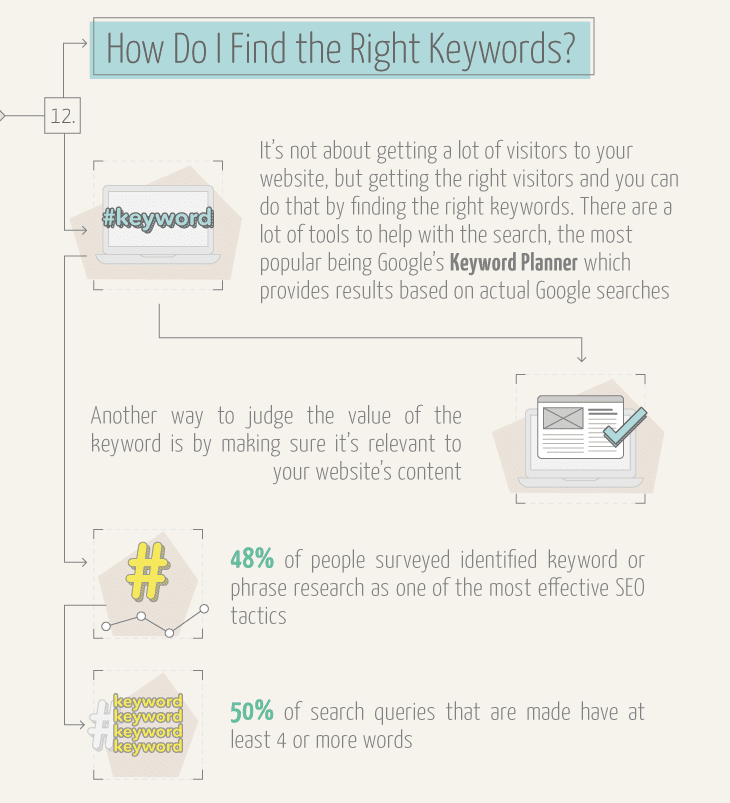 13. How Often do the Search Engines update their algorithm?
A search algorithm is a computer program that uses different signals to determine how trustworthy or reputable a source is. The actual Google search algorithm is top secret and only the developers who built it know the exact ranking factors.
Google has released a number of updates to their algorithm over the past few years, the biggest being panda, penguin and hummingbird. These big updates are published and talked about because they can have significant impacts to search rankings. Google changes its search algorithms on average between 500 and 600 times a year. So the impact of your rankings might not be known to be contributed to a specific search ranking algorithm change.
40% of marketers say that changing search algorithms is one of the most challenging obstacles to SEO success. This is because search marketers need to adapt their strategies or be left behind.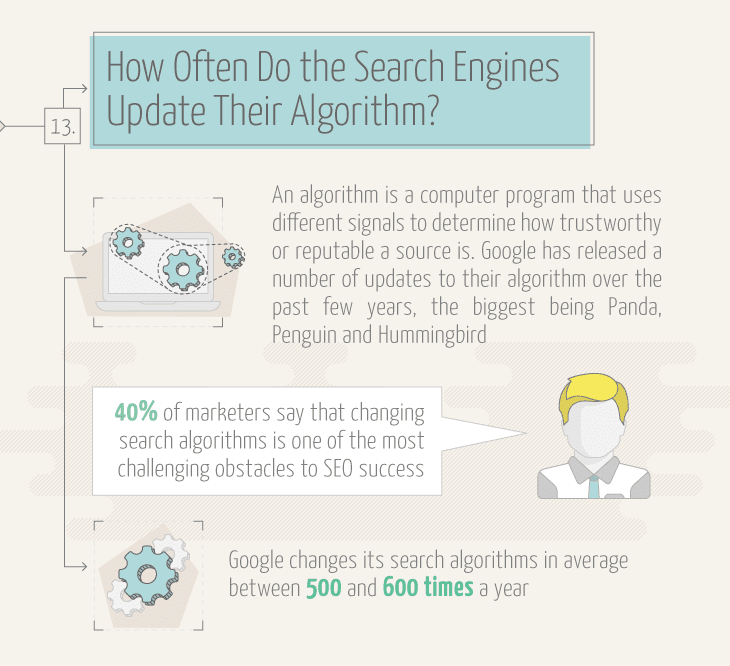 14. How does user behaviour affect SEO?
User behaviour has a huge influence on search engine rankings and the best way for websites to make themselves known and keep at the top is by understanding their audience. The metrics used by Google to collect data on user behaviour are:
The average click-through-rate (CTR) is an optimisation metric used to measure the ratio between the number of visitors who viewed that particular search engine results page (impressions).
Click Through Rate = clicks / impressions
A bounce rate is the percentage of visitors who leave a website after viewing just one page. An average website has a bounce rate of 40.5%. There are a number of conversion rate optimisation steps that can be taken to make your website convert better.
The average CTR of the first position on Google search results on desktop is 34.36%. That means that one-third of all searchers click on the first position. All other results share the other 2 thirds. That is a crazy statistic that means you will get far more traffic to your site if you are number one than any other position.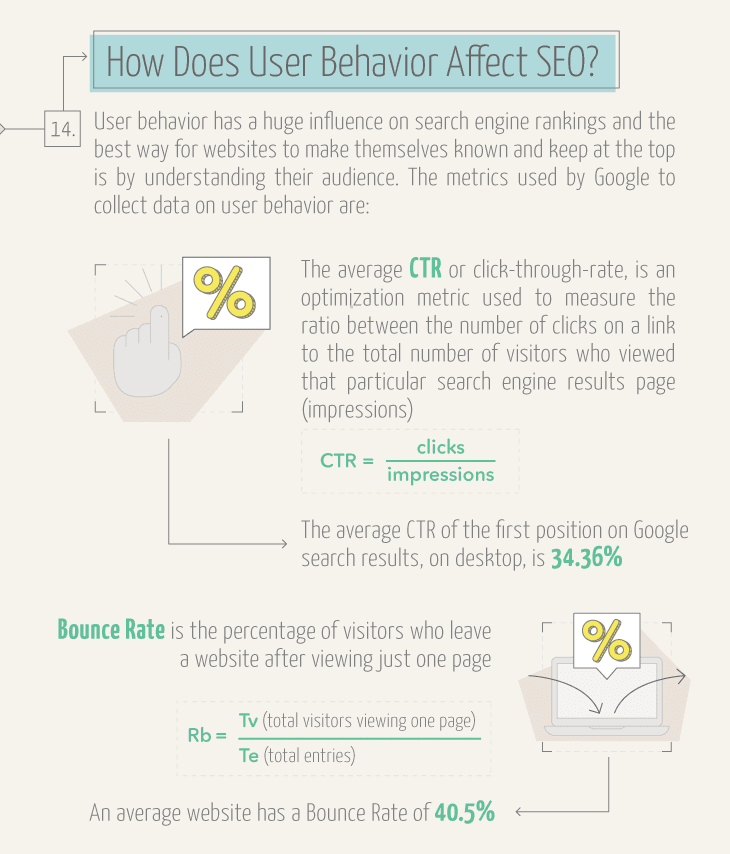 15. What is technical SEO?
Technical SEO refers to any other type of SEO that is not content and basically focuses on following search engine requirements in order to get better at indexing content. This can include:
Schema. Is a code used on websites which helps search engines to provide users with more useful informative results. Google calls it rich snippets where it can layout your content in ways like lists or in boxes rather than just a typical search result layout. It can also provide additional information such as price and star ratings.
Website Speed. Is the measurement to check how fast a page loads. We have covered this many times before and you can download our WordPress speed ebook if you would like to speed up your website.
Site Architecture. Is the combination of design, aesthetics, technical and functional criteria for websites. Think of your sites architecture as part of the foundations of your website. If your website architecture is setup correctly then it will have a positive impact on your overall SEO results.
Crawl rate. Refers to how often Googlebot (Googles search bot software) makes to your website when it is crawling it.
JavaScript, CSS and Image Files. JavaScript and CSS (cascading style sheets, which describes the presentation of web pages) can block the rendering of your website. All media files should be optimised for Google.
The average load time for a website is 5 seconds while a fast page takes between 500 mili-seconds and 2 seconds to load. The faster your website loads, the better your SEO will be.
The average time spent on a page is 4 minutes and 4 seconds.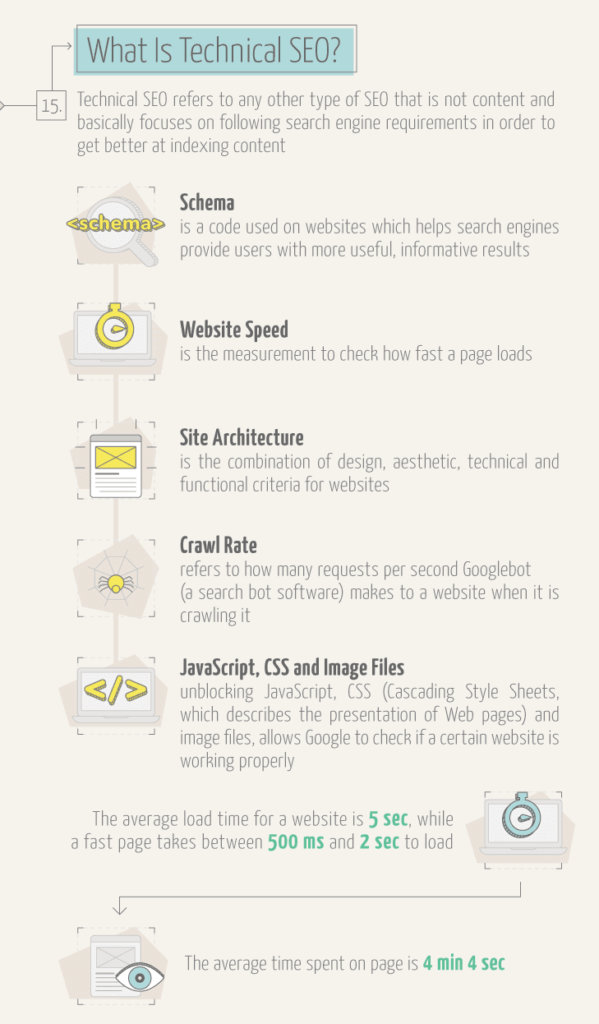 16. How much does SEO cost?
Companies can charge as little as a couple of hundred to tens of thousands of dollars for SEO.
The cost depends on the scope of work and the quality. Ideally you want to avoid working with the SEO companies that cold-email you from a foreign country saying they can get you to number one in a week. It is likely that they are black-hat spammers that will have a negative effect on your sites SEO.
SEO companies in the USA generally charge between $1000 – $7,500 per project or an average of $750+ / month to do SEO. When you factor in exchange rate for Australia, then you're looking at about $1500 – $12,000 per project and $1200+ /month.
But like I said, it really depends on the scope and reach you are targeting. For a free no-obligations SEO quote for your business, get in touch. You can find out about our SEO services here.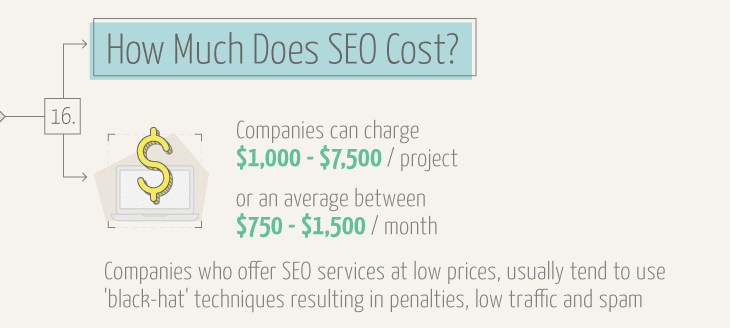 There you have it, the top 16 frequently asked SEO questions we most commonly get.
Do you have any other SEO Questions that have not been answered above? let us know in the comments below and we will be sure to answer them for you.
If you want to see the full SEO FAQ's infographic then here it is all combined together. Simply click the image and you can view it all together.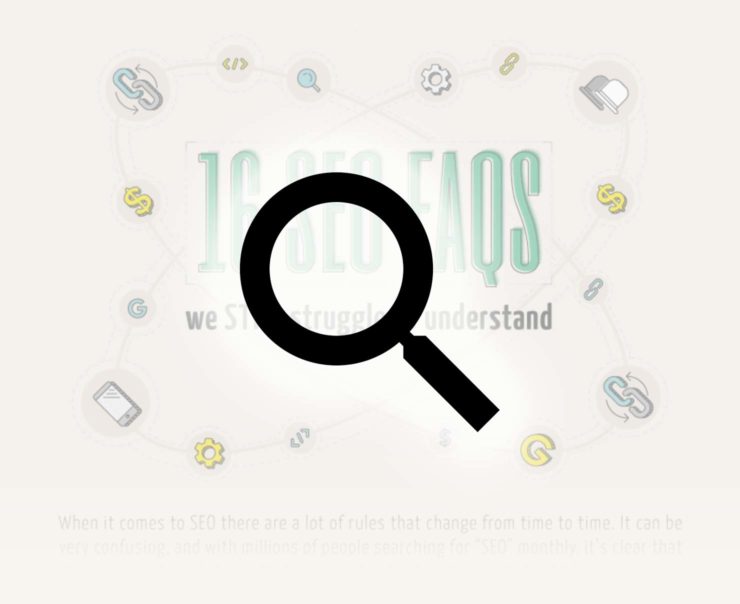 Infographic presented by SEOjury.co.uk